Referendum cash refusal confusion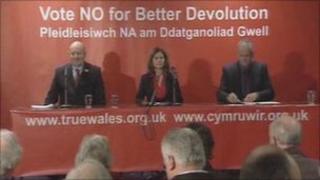 Preparations for the referendum on increasing the Welsh assembly's powers are in confusion after the No campaign said it would not seek official designation.
Neither side in the 3 March vote will receive £70,000 public funding, free mail-shots or TV and radio broadcasts.
Prof Richard Wyn Jones, director of the Wales Governance Centre, said it gave one group a veto over the other.
The Yes for Wales campaign said it will consult with the Electoral Commission.
The decision was announced when the No campaign was launched on Wednesday at Newbridge Rugby Club, in Caerphilly.
Campaign director Rachel Banner said: "Enough of the hard-earned money of the hard-working people of Wales has been spent on giving more power to politicians."
Professor Richard Wyn Jones, director of the Wales Governance Centre at Cardiff University, said True Wales' decision had forced the same move on the opposing group - with the No campaigners presenting it as a way of saving public money.
"I have to say I can't actually follow the logic of that argument," Prof Jones, who is in favour of more powers for the assembly, told BBC Radio Wales.
He said: "What was previously set to happen is that the Yes and the No campaigns would prepare their own leaflets and they would be distributed free of charge by the taxpayer essentially.
"But what I think is now going to happen, the Electoral Commission will now pay for these leaflets and distribute them so I would have thought, in the end, in terms of the public purse, we will end up paying for both the leaflets and the postage."
A spokesman for Yes for Wales said: "Our priority is to engage the Welsh public in the referendum and we will be discussing with the Electoral Commission the best way to do this."
Speaking to BBC Wales' Good Morning Wales programme, True Wales member Len Gibbs said: "We don't particularly put great store on having that designation (as lead campaign), so we came to the conclusion that we didn't need it and we are not going to apply for it.
"We have always been and will remain a group of people who puts its case using only the money of its supporters.
"It's most certainly the case that this is about public money.
"We are helping the people of Wales not to waste money on something we don't believe is necessary."
He said most people did not read political leaflets or watch political broadcasts.
He added: "We are not fighting this new war with the tools of the last."