'Evil' mephedrone warning after Rhondda teenager death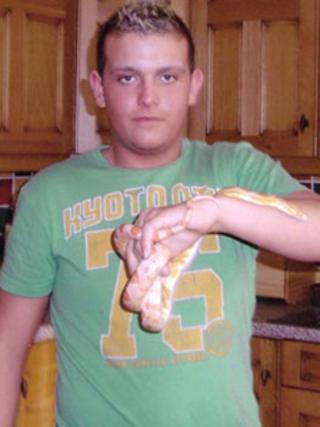 A coroner has said the death of a "happy and carefree" teenager shows the "evils" of the drug mephedrone.
Max Llewellyn, 18, from Porth, Rhondda, was found hanged in a wood after using the drug for three weeks.
An inquest in Aberdare heard that the drug, also known as meow meow and Buddy Love, can cause suicidal tendencies.
Recording a narrative verdict, coroner Peter Maddox said: "Clearly, mephedrone has affected his judgement and has contributed to the cause of his death".
The teenager's sister Jodie, 20, told the hearing she found her brother with a noose from his dressing gown cord around his neck the day before he died.
She said ran into into his bedroom to help free him.
She said: "I asked him what was wrong and he said he had nothing in his life.
"I asked him if everything was all right with his girlfriend and he said it was.
"I asked him if he had any debts and he said no. He said you get money just to spend money."
The inquest, which was held a year to the day since he was found dead, heard that the teenager, a health salon worker, turned "moody" after trying the drug.
His sister said she noticed white powder on his windowsill and two plastic bank cards.
She said: "He told me it was Buddy Love. I asked him why he was taking it and he said it made him feel great."
Body in forestry
Ms Llewellyn said she flushed the powder down the toilet and her brother assured her he was fine and planned to go to work.
She added: "I told him I would to tell our mother and he accepted that. He convinced me he would be all right and he left the house as normal."
The inquest in Aberdare heard a search was launched for the teenager after he did not return.
Family members found his body in forestry the following morning.
Pathologist Philip Brumwell told the inquest: "It is possible the mephedrone may have impaired his judgement prior to the hanging."
Powys oroner Mr Maddox, recording his verdict, said: "Max was a carefree, happy young man up to three weeks before his death.
He added: "The evils of mephedrone are highlighted in this case and I hope they can be eradicated in the future."