Jobcentre Plus call centre workers begin 48-hour strike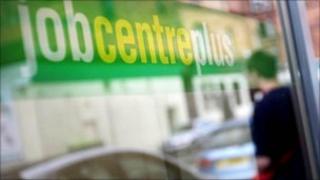 Thousands of call centre workers are beginning a 48-hour strike in a dispute over working conditions.
Staff at seven Jobcentre Plus contact centres are taking industrial action on Thursday and Friday.
Katrine Williams, of the Public and Commercial Services union (PCS) who works in the Newport centre, said staff were being excessively monitored.
The Department for Work and Pensions (DWP) said it was "disappointed" that "some staff" had voted to strike.
Workers at the sites in Newport, Glasgow, Bristol, Norwich, Sheffield, Makerfield near Wigan and Manchester are taking action after voting in favour of a walkout.
The offices are part of a shake-up of Jobcentre Plus services, and have been converted, or are in the process of being converted, into contact centres.
Ms Williams, PCS's national negotiator for Jobcentre Plus, said: "The two targets that matter to management are answering the calls and spending as little time as possible on the phone.
"If a call takes too long, we get somebody telling us to finish the call. What we're saying is we should be able to use our judgement."
She said staff were being monitored "every minute of the day", and unable to fully help clients on occasions because they were encouraged to keep phone calls so brief.
"The reason we have chosen the seven sites is because we're all experienced benefit processors and understand the complexity of the benefit system. We know how the whole of the Jobcentre Plus system works," she added.
She said the current conditions were demoralising for workers, with a staff turnover at the contact centres of around 20%.
The union is also calling for more flexible working arrangements.
Some 3,500 people work at the seven offices taking action, while around 10,000 are employed in the entire contact centre network.
Modernising
The DWP announced a revamp of its telephone and benefit processing service in October 2009.
Five offices have so far been converted into contact centres, with Makerfield and Bristol due for the switch by the end of March.
The DWP said it had to ensure performance and productivity were high in common with other similar organisations.
A DWP spokesperson said: "We are disappointed that some staff, only 21% across the centres, have voted to take industrial action. No jobs will be at risk through these changes.
"The contact centre staff at DWP will continue to receive good terms of employment including generous holidays.
"We are modernising our telephone and benefit processing service. There will be no change to the way benefits are paid, however it will mean that customers will get a better service than at present when they phone with a benefit inquiry."