No action on claim of train abuse by Cardiff City fans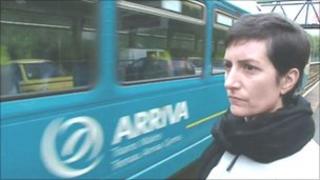 British Transport Police (BTP) say no action will taken following claims of verbal abuse by a woman at the hands of football fans on a train.
Lisa Robinson said she was so angry at abuse by Cardif City fans she stood on tracks in front of the train at Ystrad Mynach until police arrived.
An investigation was launched into her allegations, made in September.
But a BTP spokesperson said crown prosecutors decided that no further action will be taken.
The incident was reported to police after a match between Cardiff City and Millwall.
Ms Robinson, a civil servant, said she was on a train service from Penarth to Bargoed with her husband and five-year-old son when trouble erupted.
She claimed that drunken Cardiff fans began chanting sexist abuse at a woman on a platform at Lisvane in the city, and then turned the abuse on her.
CCTV footage
She said it prompted her to pull the emergency train alarm at Caerphilly, but the train driver decided to proceed.
At Ystrad Mynach, she asked the driver to call the police, and then said she decided to take "direct action" by standing on the track until officers finally arrived.
The train service was eventually terminated at the station.
BTP said it launched a detailed investigation following the allegations made by Ms Robinson.
"It included officers carrying out extensive enquiries including viewing hours of CCTV footage, and tracing and interviewing more than a dozen witnesses who were on board the train, as well as gathering statements from rail staff and members of the public," said a police spokesperson.
"A detailed file was submitted to the Crown Prosecution Service which has, after careful consideration, decided no further action will be taken in relation to the above incident."