Call for better play for disabled children in Wales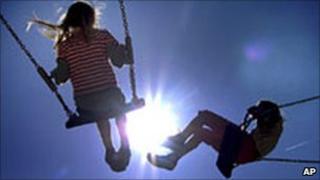 Disabled youngsters say there is "nothing for them" when it comes to leisure opportunities in Wales, says a report.
Research by the Bevan Foundation shows that many felt unwelcome or unable to access services.
Charity director Victoria Winckler said it was a "damning indictment" and called for less policy and more action.
The assembly government said play provision for disabled youngsters was a "priority".
The report is based on a survey of 82 disabled children, stakeholder organisations and surveys of play and leisure organisations who work with disabled youngsters.
It concludes that, despite a raft of legislation and policies brought in to improve their experience, "disabled children and young people face barriers from lack of provision, lack of support, poor access to buildings and negative attitudes".
These factors all combine to prevent them from participating in leisure activities, the charity said.
The research also showed many youngsters fear being bullied in public places should they try to access services, and some were even afraid to use the toilet in leisure centres or swimming pools.
Bevan Foundation director Victoria Winckler said: "This is a damning indictment of the Welsh Assembly Government and the society we have created - its findings are bad for the assembly government in every way.
"It is time for them to put their money where their mouth is.
"There has been a lack of action here because nobody took ownership of the issue - it seems to be everybody's responsibility and yet nobody's responsibility."
Changing practice
One of the report's recommendations is to place a disability development worker in every local authority.
Ms Winckler said this need not cost a huge amount of money.
"It's about changing practice - there are some very good organisations, like Dynamic in Wrexham and Circus Eruption in Swansea, which are providing excellent services on a shoestring and demonstrate that it is possible to involve disabled children and young people - either in specialist activities or in mainstream ones.
"What it needs is money to support the development of activities and more people on the ground to make those changes."
'Focused'
She said that a minority of disabled children and young people do lead very active lives, enjoying activities like swimming, horse-riding, trampolining and youth clubs.
The report concludes that the UK and assembly governments have created endless strategies and policy documents which have achieved nothing.
It calls for a more "consistent and focused" approach, which concentrates on the needs of young people irrespective of their disability and involves disabled children in decision-making.
An assembly government spokeswoman said: "We have provided £250,000 per annum for three years to help local authorities to expand the opportunities for disabled children.
"This funding will be matched by a similar amount from local authorities."
It said that following the UK government's decision to stop Child Trust Funds, the assembly government will be diverting money from the CTF Cymru top-up to other areas of need, "with a particular priority being children and young people with disabilities and their families".
'Huge strides'
She added: "The funding to improve support for disabled children, young people and their families will be made available, on a ring-fenced basis, through the assembly government's new Families First initiative.
"We are working closely with the Disabled Children Matter Wales Campaign to ensure that their views can be taken into account as we develop the proposals and their roll-out."
Michelle Daltry National Development Manager of Disability Sport Wales said: "Certainly within sport, huge strides have been made. Our community programme has been running for more than 10 years.
"In 2000, there were around 1,400 opportunities across Wales for disabled people. Today, there are in excess of 700,000. We have 400 sports clubs in Wales that are able to cater for disabled people.
"Having created a solid framework, we are now focusing on educating and upskilling the mainstream sports sector to provide community opportunities for disabled participants in an appropriate and meaningful way."