Olympic contracts for Wales 'disappoints' Carwyn Jones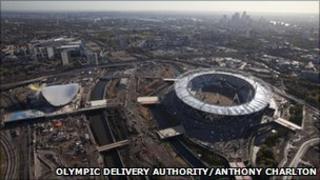 First Minister Carwyn Jones said he is "disappointed" by the number of Olympics contracts won by Welsh firms.
By last November, Welsh companies had clinched just 11 out of 1,433 contracts for the London games in 2012.
At question time in the Senedd, Conservative opposition leader Nick Bourne asked what was being done about the situation.
Mr Jones said help was available for firms to make the most of the Olympics.
"It's right to say that we are disappointed with the contracts that Welsh businesses have managed to win," he said.
He said initiatives were under way to help businesses be more successful in winning contracts.
Ambulance queue
The assembly government has urged firms to register for a series of events about opportunities to supply the London games with goods and services.
Figures obtained by the Plaid Cymru MP Hywel Williams recently showed Welsh companies had won 11 tier-one contracts with the Olympics Delivery Authority (ODA), which is responsible for developing and building the venues and infrastructure for the games.
Companies from London had secured 726 contracts and 25 had gone to Scottish firms.
Otherwise, Mr Jones was also asked about ambulances being forced to queue outside busy hospitals.
Ambulances spent more than 80,000 hours waiting to transfer patients to hospitals in two years, according to figures obtained by the Welsh Liberal Democrats.
Turn-around times when handing patients to hospital staff should take no longer than 20 minutes, under targets.
Welsh Lib Dem leader Kirsty Williams said: "These are real people in ambulances - waiting. First minister, we are all waiting for you and your government to provide the people of Wales with a decent health service."
Mr Jones said: "If A&E is full then it means that ambulances have to wait.
"People should only attend A&E if indeed their situation is an emergency."
He said less than half the calls to the ambulance service related to life-threatening emergencies.
"There will be occasions when there are delays in handing patients over and we are working with the ambulance trust to minimise those delays in future," he added.
Plaid Cymru AM Nerys Evans said it was crucial that the assembly government understood why Wales' education system had slid down a worldwide league table for reading, maths and science.
The Pisa assessments of 15-year-olds, published last December, showed Wales fell further behind since the 2006 tests.