Drink minimum price 'important step' says Wales Office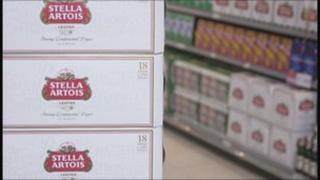 A Wales Office minister says plans for minimum pricing for alcohol are "an important first step" towards tackling drink-related crime problems.
David Jones said there was rising concern about the UK government's plan for England and Wales, which would work out at 38p for a can of weak lager.
The Welsh Assembly Government had asked for powers over licensing to be devolved, but its request was rejected.
It queried whether the UK government plan was "window dressing".
Mr Jones said: "We know that there is growing concern over the availability of cheap alcohol and that there is a clear link between alcohol and crime and disorder and that is why we are taking action to address this complex issue.
"Price controls can help reduce alcohol-related violent crime and the plans announced today send a clear signal to retailers and the public that the government takes this issue seriously.
"The sale of cheap alcohol leads to a greater risk of health harm and alcohol-related crime and it is only right that we tackle the worst instances of deep discounting."
Under the proposals, shops and bars will be prevented from selling drinks for less than the tax they pay on them.
Binge drinking is linked with chronic health problems and social disorder and the UK government hopes to make people think twice about how much they should drink.
Welsh Budget Minister Jane Hutt said: "We don't know yet what that's going to mean.
"We have been calling for minimum pricing in Wales. We are ahead of the game.
"It's got to be meaningful. We will see if it's window dressing.
"The key point is that they (the UK government) should be talking to us."
Clive Wolfendale, chief executive of CAIS, the north Wales drug and alcohol agency, said the proposed price level was not high enough.
Mr Wolfendale said: "This will not make people think twice or even once. It will not change the goalposts at all.
"It looks like a sop, to me, to campaigners. I'm very disappointed. It will have zero impact on health issues concerning the use of alcohol."
Mr Wolfendale told BBC Radio Wales that the proposals represented 21p a unit for beer and 28p for spirits.
"It needs to be 50p at least, to have any significant impact on health problems," he said.
"I can't see it making a huge amount of difference at all. It's just wallowing about at the bottom of the spectrum."
Mr Wolfendale said he had just visited Finland where half a litre of beer cost seven euros (£5.85) and a "very moderate" bottle of wine about 25 euros (£20.90).
"Now that's getting serious," he said. "We're just playing at it here."
Nick Bish, chief executive of Association of Licensed Multiple Retailers, which represents pub and bar operators, described the plan as "a start".
"If you establish the principle that there should be a minimum price, or a ban on low-cost selling then you can move the goalposts," he said.
"This is an entry point. It doesn't really do very much on day one. It establishes a principle and it might or might not move depending on what campaigners achieve."
However Mr Bish said the move would do little to help hard-pressed pubs and clubs survive.
"The effects are going to come through some time down the track," said Mr Bish.
"People's habits will change. This isn't going to make a huge difference to people's buying decisions except right on the margins in the community of people who misuse alcohol."