World heritage Chinese sculptures to exhibit in Wales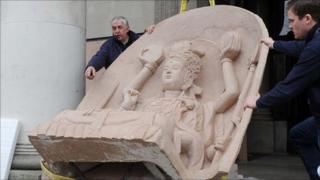 Ancient sculptures from China which have never been seen outside their homeland are set to go on display in Wales.
The ancient rock carvings from Dazu, China, will be exhibited at National Museum Cardiff from the end of January.
The carvings come from the Dazu World Heritage site and date back to the middle of the 7th Century.
The museum's director general said the carvings are "cultural treasures".
The free exhibition will contain examples of the carvings that have become detached from their original setting, along with accurate replicas of some of the most important sculptures still in situ and dramatic large-scale images, to give some idea of what it is like to visit these spectacular places.
David Anderson, director general of National Museum Wales, said: "Dazu rock carvings are some of China's greatest cultural treasures from a golden period of Chinese art.
"I have visited Chongqing myself and have seen these carvings in situ - an unique experience in itself."
"Hosting their first appearance outside of China is a privilege not just for the museum but for Wales.
Cultural property
"I am confident this will be a popular exhibition and hope this is the beginning of a successful relationship between us and the Chongqing Culture Bureau."
The free exhibition runs from 26 January until 3 April.
First Minister Carwyn Jones will officially welcome guests from China at the exhibition's launch.
Li Fangyin, curator of Art Museum of Dazu Rock Carvings in Chongqing, China, said Wales' "history and culture" were the reason why it was chosen to host the first appearance of the Dazu rock carvings outside of China.
"As a world cultural heritage, Dazu Rock Carvings should not only be taken as a treasure for local people of Dazu, but should also be recognized as a cultural property of the whole world.
"Both the artistic and historical value should be shared and appreciated by world people."