Attackers jailed for 'brutal' hammer attack on couple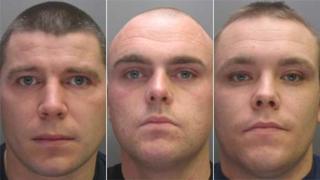 Two masked men who subjected a couple to a "vicious and brutal" attack with a hammer have been jailed.
Robert Jarvis, 25, of Buckley, and Mervyn Owen, 33, of Wrexham, broke into the Northop home of taxi firm owner Bryn Williams and his wife.
Owen and Jarvis and were jailed for 14 and 10 years at Mold Crown Court after admitting aggravated burglary.
Their driver Aaron Nicholls, 22, from Wrexham, was jailed for five and a half years.
Judge Niclas Parry said it was a vicious robbery of "exceptional gravity."
The court heard Mr Williams was making dinner while his wife Jane watched TV when the men broke into their home in November 2009.
The robbers burst into the kitchen confronting Mr Williams and demanded he hand over money.
Mrs Williams found her husband on the floor with two men in balaclavas brandishing hammers over their heads.
She was also ordered onto the floor and they asked where the money was.
When she said there was none there, the robbers hit Mr Williams on the head with a hammer.
Three of his teeth fell out as one hammer blow struck his head in an ordeal which was described as "every couple's nightmare" by prosecutor Sion ap Mihangel.
"It was a vicious and brutal burglary which inflicted serious and long lasting injuries, a terrifying ordeal where there were repeated threats and the use of hammers as weapons," said Mr ap Mihangel.
Pre-arranged visitor
Threats were directed at Mrs Williams, he said.
"She was terrified and later said she had never been so scared in her whole life," the prosecutor said.
The court heard that Mr Williams handed over more than £900 cash from the weekend's takings and savings.
They also gave them an envelope containing about £1,300 they had been saving for Christmas.
The attack only ended when one of Mr Williams' employees arrived for a pre-arranged visit.
Mr Williams then ran at one of the attackers and got him to release the hammer while they grappled.
'Level of terror'
His wife ran out of the kitchen, through a hedge and flagged down a passing motorist and called the police.
The court heard Mrs Williams suffered a fractured jaw while her husband had three teeth knocked out and others loosened which still required medical attention.
Judge Niclas Parry said: "You targeted your victims intending to make substantial gains. You went with balaclavas and weapons."
"Both Mr and Mrs Williams feared they would be murdered and the levels of violence against them was utterly appalling.
"I cannot imagine the level of terror they felt."
Outside court, Det Sgt Anne-Louise Jones of North Wales Police said: "This was a particularly violent and nasty attack on a family in their own home.
"The offenders clearly had complete disregard for the victims and were determined to carry out their crime at all costs."