Government defends plans to cut number of Welsh MPs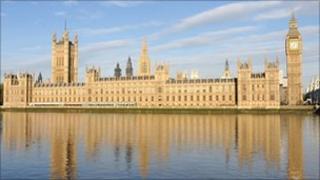 The UK government has defended its plans to cut the number of Welsh MPs by a quarter.
Wales would lose 10 of its 40 MPs under legislation going through Westminster put forward by the Conservative-Liberal Democrat coalition.
A committee of MPs said the cut would mean a "profound change" to the way Wales is represented in parliament.
But the government said Wales was "significantly over-represented" and existing arrangements were not fair.
The Conservative-Liberal Democrat coalition wants to create constituencies of equal size and reduce the number of MPs from 650 to 600 as part of reforms to the political system.
In a report published last October, the Commons' Welsh Affairs Committee said Wales' unique geography, culture and history had long been recognised in its Westminster constituencies and that the proposals would cut the number of Welsh seats "at a stroke".
'Fairness and equality'
Responding to the report, the government said a vote in Wales was effectively worth more than in most seats elsewhere in the UK.
"That is not fair, and cannot be right," it said.
"The overriding principles of the government's reforms are fairness and equality."
Its said the reduction of Welsh seats should be seen in the context of an overall cut in the size of the Commons that would take the proportion of MPs with Welsh seats from 6% to 5%.
It said: "We do not agree that this is as profound a change as might be thought at first sight.
"Following these reforms, a vote in Wales would be worth the same as anywhere else in the United Kingdom.
"Wales would continue to have a strong voice in Westminster."
The Parliamentary Voting System and Constituencies Bill, which contains the changes, breaks the link between seats in the national assembly and parliament. They currently share the same boundaries.
'Significant challenges'
The bill has gone to the House of Lords.
The government also responded to concerns about plans to introduce fixed-term parliaments with elections every five years. It would result in UK and Welsh assembly elections falling on the same day every 20 years.
A potential clash of elections in May 2015 would present "significant challenges", the committee warned.
But the government said combining elections under the Fixed-term Parliaments Bill would deliver benefits such as increased voter turnout and reduced costs.
But it added it was "mindful of concerns expressed, including by some in the devolved institutions" about the clash.
It said: "The government has consulted the first minister, the presiding officer and party leaders in the assembly, on possible options for deferring assembly elections in years where they would coincide with parliamentary general elections, and has also consulted in Scotland in similar terms.
"We are considering next steps in light of the responses received."