Autistic adults' needs 'not met,' says Wales charity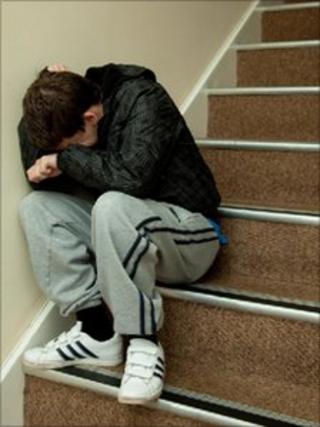 More than half of adults with autism in Wales say their needs are not being met, according to a charity.
The National Autistic Society Cymru said despite improvements, many people with the condition still had difficulty finding and securing services.
One in 10 adults said they had waited 10 years to be diagnosed, while 12% said they had been homeless.
The findings are published in a report called The Life We Choose: Shaping Autism Services in Wales.
The report highlights that while progress has been made across Wales in diagnosis and support, many people still feel that there is a lack of available services and professional understanding.
One mother said that earlier diagnosis of her daughter's condition might have saved her marriage.
The NAS Cymru report found that 54% of the 354 people in Wales interviewed thought that their needs were not being met, while 58% the diagnostic process took too long.
Almost a third of adults with autism said they did not know where to find the support they needed, while 26% of parents and carers said they had been given a carer's assessment, but only 52% of these receiving support as a result.
Some 59% of parents and carers said that a lack of timely support had resulted in higher support needs in the longer term.
Increased awareness of autism in schools can help children and young people reach their potential and also help prevent issues like bullying, according to NAS Cymru.
Jo Salmon, whose daughter, Holly, 12, has high-function autism, said the diagnosis was a "long process".
'New strategies'
"When she was a baby there was something not quite right but it took five years," said Ms Salmon, of Caerphilly. "It was a fight to get a diagnosis.
"There have been a lot of changes - it turns the role of parent on its head. I had to learn new strategies on how to deal with Holly.
"I was upset and angry that it took five years to get a diagnosis.
"If we'd had a quicker diagnosis Holly would have had coping strategies sooner and I'd have dealt with her in a completely different way.
"Our lives would have been much easier and maybe - maybe - my husband and I would still be together.
"Things are difficult. Things fall on me, while my son is classed as a young carer because he helps Holly a lot with different things. It has been difficult, and it continues to be difficult."
'No consistency'
Jill Grange, who lives in Bridgend with her 12-year-old son Matthew, said her family had a mixed experience of education and support.
"For years, I was unable to get appropriate support for my son in school," she said.
"It would be a different person helping him all the time so there was no consistency, and they seemed to have little or no training in autism.
"It got to a point where I had to home educate. He is now in a mainstream school, which understands his condition, but it's followed years of struggling."
Rebecca Evans, of NAS Cymru, said: "Our report is based on the largest-ever study of the experiences of those affected by autism across Wales and, crucially, reveals just how many are still not getting the basic help they need.
"While we are pleased to highlight several examples of promising work, such as the development of an all-Wales approach to adult diagnosis, and the production of awareness-raising resources for newly qualified teachers, what we need now is to ensure that people really feel the benefit and receive the support they are telling us they need."