Prolific Cardiff historian Stewart Williams dies at 85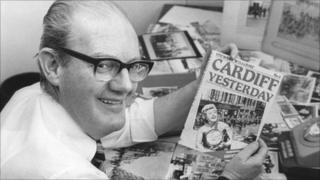 Tributes have been paid to prolific south Wales historian Stewart Williams, who has died aged 85.
Among more than 100 books he produced was the popular Cardiff Yesterday series, which collated thousands of old photos of the city.
Mr Williams started out producing bootleg football programmes for Cardiff City before using old photos to record the people and towns of south Wales.
His daughter Diane said he left a "unique and lasting record".
Mr Williams maintained strong links with his roots in Ely in the city and after his early years in the engineers department at Cardiff City Council joined the Western Welsh Bus Company as a publicity officer.
It was here that his part-time publishing career took off, covering the history of Glamorgan in more than a dozen volumes along with an advisory role in the publication of Glamorgan County History.
It was the 36-strong Cardiff Yesterday series which was to provide his biggest legacy, recording the life of the city and its people through 7,500 old photographs.
The success of the project enabled Mr Williams to leave the Western Welsh and make publishing his sole career, operating a family business from his home in Barry.
His wife Betty, who passed away in April 2009 and their two children, Robert and Diane, helped with everything from proof reading to delivering books to individual subscribers.
Mr Williams' daughter Diane said her father was "a proud Cardiffian" and had a passion for sharing local history.
'Inspire people'
"He was a Cardiff boy made good and had a real understanding of both the working side of Cardiff as well the academic side of local history."
"Seeing how people and places changed over time was something he found really interesting."
Ms Williams, who works for the Welsh heritage organisation Cadw says her own career was influenced by her father's work.
"Money was never his prime motivator, it was the feedback from the books, going round to people's houses to collect photos and hearing their stories.
"He was the best dad in the world and helped inspire people to learn about local history, even people who were not normally interested in the subject."
'A mentor'
Fellow author Brian Lee worked with Mr Williams as part of the City Hall historical records project and described him as being an innovator in the field of publishing.
"There are lots of books that look back in time but Stewart was a pioneer, setting up his own publishing company and producing more and more volumes of Cardiff Yesterday because it was so popular.
"He was my mentor, and when he wrote the forward for my book, A Cardiff Century, in 2004, he mentioned his pride of having a copy of Cardiff Yesterday included in a time capsule - he just loved history."
Zena Mabbs, chair of the Grangetown Local History Society said: "Apart from those nearest and dearest to him, many, many people in Cardiff who bought and avidly read his history books will miss him.
"His contribution to the recording of the heritage of our city in print is unmeasurable, and the many books which he produced will be a marvellous tribute to his memory."
Mr Williams' work also involved capturing Rhondda, Caerphilly, Ebbw Vale and Barry. Other projects included helping record the life of Mary de la Beche Nicoll in 'Grandmother Extraordinary' and 'Vintage Buses and Trams in South Wales'.