Nine on terror charges appear at Old Bailey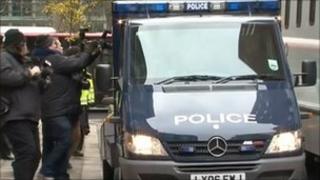 Nine men have appeared at the Old Bailey by videolink accused of plotting terror attacks in the UK before Christmas.
The men were held last month in dawn raids in London, Cardiff and Stoke-on-Trent by counter-terrorism officers.
They are charged with conspiring to cause explosions likely to endanger life or damage property between 6 November and 21 December 21 last year.
They were remanded to another hearing on 25 February.
Mr Justice Calvert-Smith said the men's trial would not take place until at least January 2012, with Woolwich Crown Court the likely venue.
The defendants from Cardiff are Gurukanth Desai, 28, Omar Sharif Latif, 26, and Abdul Malik Miah, 24, from three addresses in the Riverside area of the city.
The defendants from London are Mohammed Moksudur Rahman Chowdhury, 20, of Tower Hamlets, and Shah Mohammed Lutfar Rahman, 28, of Newham.
The suspects from Stoke-on-Trent are Nazam Hussain, 25, Usman Khan, 19, Mohibur Rahman, 26, and Abdul Bosher Mohammed Shahjahan, 26.
They are accused of plotting to target landmark sites such as the Stock Exchange, the Houses of Parliament and the US Embassy, as well as political and religious figures.