Sport Wales wants five hours sport a week for children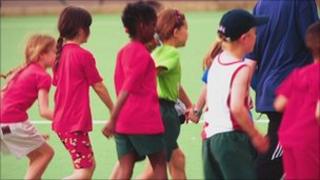 Children should have the chance to play sport for five hours a week, sports chiefs say.
Sport Wales called for families to help get the nation active and said taking part in sport should be a natural part of children's lives.
It set out plans to get youngsters "hooked on sport" and to make Wales a "nation of champions".
Its vision for the future pledged to make the most of every pound spent in a tough economic climate.
The report said children should have the opportunity to join in with at least five hours of high quality sport every week, in school and in their communities.
Sport Wales, which funds athletes and grassroots teams, said its resources were currently focused on schools and extracurricular activities.
Its total assembly government funding is due to be cut by 6% over three years.
In future, resources will be shifted towards encouraging schools, clubs and leisure centres to link up, it said.
It said it wanted to increase the number of volunteer coaches, officials and administrators, and to provide the training and support needed to retain them.
The document said: "We need a club and competitive structure within our sports that makes the most of our aspiration to get every child hooked on sport for life."
It said sport was about to undergo an "unprecedented shift in culture".
The number of children taking part at sports clubs has grown over the last decade - from 72% in 2000 to 80% in 2009. Notably, girls' participation rose from 67% to 78% over the same period.
But Sport Wales chairwoman Laura McAllister said recent figures showed the trend was starting to slow.
The report said fewer young people took part in sport after the age of 15. Among adults, participation in sport has stayed the same for the last 10 years.
Economic climate
"As a sector, we need to look at new ways of engaging with children and young people so that everyone enjoys the health and social benefits that taking part in sport can bring," Prof McAllister said.
"We want to see everyone feel the benefits from sport and realise that families are important in helping us to achieve this.
"This is why we are asking them to promise to commit to making 2011 the year that we see a step change in participation and performance in Welsh sport."
Matt Newman, from Welsh Athletics, backed the five-hours-a-week appeal.
He said: "With the current economic climate, the vision also coincides with a period of reflection for national governing bodies of sport in Wales, when we are all reviewing our current offerings and looking for some innovative solutions."