Motorist jailed over teenager's sledging death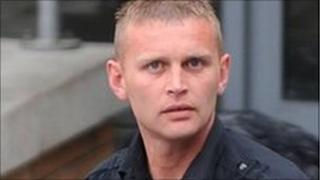 An unlicensed driver has been jailed for a year at Newport over the death of a teenager sledging in the snow.
Alwyn Smith, 35, of Abergavenny, was driving along a snow-covered road in Tredegar, Blaenau Gwent, when two men slid into his path on a homemade sledge.
Anthony Farley, 19, from Bettws, Newport, died and his cousin David Roberts, 24, was seriously injured.
Smith, who fled, admitted causing death while uninsured and other offences.
Newport Crown Court heard the factory worker later told police he thought he had hit a pothole.
He had not passed his driving test, the court heard.
Mr Farley had moved in with his girlfriend and their one-year-old son Ieuan when the incident happened in February 2009.
Prosecutor Owen Williams told the court how Mr Farley and his cousin were out throwing snowballs and sledging.
He said: "They were using a piece of polythene sheeting to toboggan down a snow-laden embankment.
"They positioned themselves on the plastic sheet at the top of the bank and travelled down together with Anthony at the front.
"Both men slid onto the carriageway into the path of Smith's Peugeot.
"The vehicle passed completely over Anthony, resulting in significant blunt trauma to the head."
Other drivers stopped to help both Mr Farley and his seriously injured cousin.
But Smith, who was driving to buy a newspaper in the car he had bought for £300 five months before, fled.
He gave himself up to police after breaking down in front of his girlfriend, Claire Thomas, when she told him about the tragedy two hours later.
Smith also admitted driving without a licence and failing to stop after an accident.
Sentencing, Judge Eleri Rees told him: "You're a man who had never proven his competence to be driving a vehicle.
"This was a blatant disregard of the regulations, not a lapse or oversight.
"You knew the consequences of not having a licence or insurance but you were simply and blatantly flouting the law."
Smith was banned from driving for two years.
Speaking outside court, Mr Farley's mother, Val, said: "Anthony was just having fun and Alwyn Smith should never have been driving a car.
"He only went for a newspaper, that's my son's life for a newspaper."
She said of Smith: "He can get on with his life in six months, we will never get on with ours. We just have to put a brave face on."