Plaid Cymru wants assurances over Welsh stamps' dragons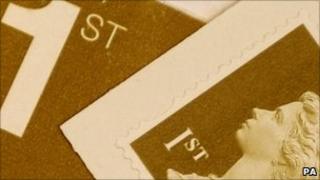 Plaid Cymru has called on the UK Government to ensure the Welsh dragon remains represented on stamps.
Plaid Cymru has tabled amendments to the Postal Services Bill, which is due for its third reading and will provide for the privatisation of Royal Mail.
Amendments have already been made to the bill which will ensure UK stamps will feature the Queen's head, even if Royal Mail enters foreign hands.
Royal Mail said it had "absolutely no plans to discard" Welsh stamps.
Plaid's Westminster leader Elfyn Llwyd MP said Royal Mail sells stamps in Wales which feature the Welsh dragon and other Welsh symbols alongside the Queen's head.
He said: "If the Royal Mail is privatised, there is no guarantee that Wales will be able to preserve its own unique brand of stamps which feature the Welsh dragon and other famous Welsh symbols.
"It is more important than ever to promote Wales in every possible way, and highlighting a nation's identity on postage stamps is something done by countries large and small all over the world.
"It would be very sad to see national and historical designs replaced by corporate logos.
"I would urge the UK Government to support our amendment to ensure that distinctive Welsh, Scottish, Irish and English images are kept on our stamps - just as they have done with the Queen's head."
The amendments have been made in conjunction with the SNP.
Mr Llwyd said he was "very concerned" of the effect privatisation would have on postal services in Wales.
He added: "There is a very real threat of more Post Offices closures - cutting the network even more than the last Labour government who closed hundreds of branches across Wales.
"The UK Government must have ongoing discussions with the Welsh government to look at the damaging effects these changes will have here in Wales."
A Royal Mail spokesman said: "The Welsh definitive stamps are a very important feature in our philatelic service and we have absolutely no plans to discard them."
A Department for Business Spokesperson said: "This amendment is unnecessary.
"Our plans give ministers the power to require an image of the queen to appear on postage stamps.
"That power is wide enough to ensure that the Government could also require distinctive Scottish, Welsh, Irish and English designs on UK postage stamps.
"It is extremely hard to see any reason why any future owner would want to change these valuable and prestigious traditions.
"So our amendment is really a fail-safe and we would be astounded if the power ever needs to be used."