Unions attack Rhondda Cynon Taf council jobs warning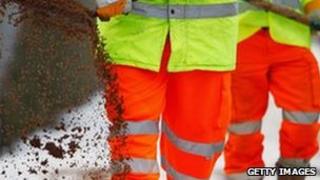 Unions have attacked plans by Rhondda Cynon Taf council to make thousands of staff accept lower deals on pay and conditions.
The GMB and Unison unions say the council should have considered more voluntary redundancies.
The council's chief executive has told workers any delay in accepting the deal would lead to job losses.
Council leader Russell Roberts said the plans would mean no compulsory job losses or cuts to frontline services.
Councillor Roberts said: "I am convinced this is the right direction to take and I confirm once again that there will be no compulsory redundancies and no cuts to frontline services in Rhondda Cynon Taf.
"Local jobs are safe and protected thanks to this decision."
The changes proposed by the council include a new pay structure after a job evaluation exercise and changes to terms of employment.
Unions said the changes also involve reductions in allowances for people who use cars, changes in payments for weekend work and overtime and retainer payments.
Dave Bezzina, the regional organiser for Unison, said the union was dismayed at the council's approach.
"We recognise that because of what's been stated as unprecedented attack on public services that local authorities like Rhondda Cynon Taf need to make big savings.
Mr Bezzina said he did not believe the council had considered all options.
"First of all, we believe that the council should be looking at the level of council tax increase.
"At the moment all the calculations are based on a 3% increase, we believe the council should be looking at a higher increase.
"Voluntary redundancies too, we believe that is something the council should look at more."
Mr Bezzina said the changes to staff contracts were "fairly dramatic" with some staff losing up to £9,500 a year.
He added: "Our concern is the approach being adopted by the council, of basically saying these are the new conditions of service, this is what you'll be paid, here is a new contract you are given a date by which you have to accept it.
Worst financial settlement
"We want to make a collective agreement with the council but we cannot do that under the threat of them saying regardless of your consultation with members we are going to impose these conditions of service by dismissing and reengaging employees on the new contracts."
Rhondda Cynon Taf council blamed public sector cuts by the UK government for a £14m hole in its budget.
The council said it had received the worst financial settlement since the council was created in 1996.
Unions have been negotiating with the council since November but on Monday council chief executive Keith Griffiths wrote to staff saying the time for talks had run out.
Council leader Russell Roberts told BBC Wales: "It's not really an option to raise council tax because the level we would have to set it to cover the £5m savings these changes to staff contracts would bring about would mean raising council tax by double digit figures."