Nurse 'sex with boy, 14' disciplinary hearing delay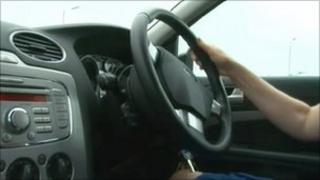 A Nursing and Midwifery Council (NMC) disciplinary committee has heard claims that a district nurse had sex with a 14-year-old boy.
Nurse Victoria Horsley, 36, of Tyn-Y-Gongl, Anglesey, is also alleged to have allowed three teenagers to drive an NHS vehicle a number of times.
The hearing in Cardiff was adjourned after it emerged paperwork on the case had been sent to the wrong address.
On Wednesday, a decision will be taken on what happens next in the case.
At the opening on Tuesday, the three-person panel was told Miss Horsley was a district nurse at North West Wales NHS Trust in 2005 when her alleged relationship with the boy began.
The committee heard how it then continued in secret until about 2008, despite Miss Horsley being advised not to contact the child following an investigation by the NHS trust.
The allegations were looked at by the police but "inconstancies" in the child's story eventually meant no action was taken, the hearing was told.
The NMC hearing was due to hear the details of this and other allegations but the nurse's legal team were successful in having the sex charge removed.
'Shock'
Christopher Green, defending, said a clerical error meant Miss Horsley had only found out about the most serious charge - of having sexual intercourse with a child - in October of 2010 and said it came as "a devastating shock".
Mr Green told the committee that up until that point Miss Horsley, who thought she only faced the less severe charges of allowing children to drive her NHS vehicle, "had taken the view that she'd probably never work again as a nurse again and was not going to contest the allegation".
But, he said, she contacted the Royal College of Nursing to contest the proceedings after the addition of the more serious charge.
After resuming on Wednesday, the hearing could be adjourned until much later so that the most serious allegation can be added, according to set procedure.
But the panel can also decide to go ahead with a hearing and look at lesser outstanding charges.
They include claims that Ms Horsely, who is not currently working as a nurse, allowed two boys aged under 17 to drive a vehicle belonging to the North West Wales NHS Trust, for which she then worked.
Teenagers
She is also alleged to have allowed a third teenager to drive the vehicle, assumed to be the car provided with her job.
None of the teenagers in question would have had a licence or been insured.
A third allegation states that she maintained contact with Child A contrary to advice given by the trust.