Mark Thompson denies minister forced BBC over S4C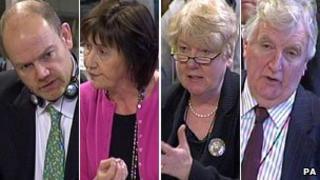 BBC director general Mark Thompson has denied UK Culture Secretary Jeremy Hunt forced the BBC into accepting the new funding agreement with S4C.
Giving evidence to the Welsh Affairs Committee's inquiry into the future of S4C, he said it was an "agreement rather than an imposition".
Mr Thompson was eager to allay fears about the funding of S4C after 2015.
He told MPs it could "expect a similar approach" to the current partnership once the licence fee takes over.
Replying to concerns raised about the cut to the Welsh language channel's funding, BBC Wales director Menna Richards stressed that every broadcaster was now having to make savings.
Mr Thompson added that the "challenge for S4C is to use available resources and give best possible value for audiences".
BBC Wales trustee Elan Closs Stephens, former S4C chair, admitted there had been a "long period of unhappiness" in S4C, but stressed it was now important they ensured some sort of stability.
'Beneficial to all'
Mrs Stephens also said that if there were to be a review into S4C it shouldn't just be about structures but also about what the audience wants, calling for a "continuing dialogue with audiences" once the BBC takes over the funding.
Welsh heritage minister Alun Ffred Jones also gave evidence to the committee and he called for an extensive review to what has happened in S4C and into the best structure for the future.
He also criticised the current structure for not servicing the needs of the viewers, but admitted there were failures in the scrutiny of S4C, and said that looking back "everyone should have taken more interest".
Responding to questions about devolving broadcasting, Mr Jones said that to devolve S4C on its own "would not be beneficial", but that any transfer of responsibilties would have to be accompanied by a transfer of finances.
However, Mr Jones said it would be "beneficial to all" if there was a clearly defined role for the assembly government in any future scrutiny arrangement of S4C.
Adding that they have already indicated to the Department for Culture Media and Sport (DCMS) that they are willing to participate in any future discussions.
Mr Jones indicated that it would be "inevitable" that S4C would have to reduce its hours of programming, given the cuts in the budget.
He added that it was hard to think that this kind of cut would not have an on-screen effect.