Conwy council looks to fill empty homes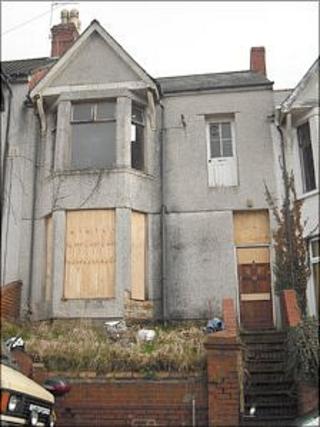 A strategy to move people with housing needs into empty private homes is being discussed by a north Wales council.
Around 900 properties in the Conwy area had been unoccupied for six months or more in April 2010.
Last November, Shelter Cymru called for councils to use their powers to bring 26,000 empty privately-owned homes in Wales back into use.
Conwy's cabinet will discuss a range of initiatives to support owners of long term or problematical empty dwellings.
The towns with the most empty dwellings were Llandudno, Abergele and Colwyn Bay, said the council.
Lack of funds for refurbishment, reluctance on behalf of owners to consider renting out or a lack of awareness of what could be done with the building were blamed.
Of the 1,000 empty properties, 26 owners were considering making their properties available for rent, 51 were interested in applying for an empty homes grant and 61 were interested in help in selling, renting or advice on renovation.
At the meeting councillors will be urged to continue funding a post specifically aimed at dealing with empty homes.
Last November Shelter Cymru urged local authorities to act on the issue, saying there were 91,000 households waiting for council and social housing.
Empty homes were a blight on communities, said the charity, often attracting fly-tipping and vandalism, which can tie up local resources and deter investment in an area.
At the time Newport council said it would target more empty homes after selling off a house that had been unoccupied for 14 years.
It said its five-year plan would target an estimated 120 empty homes.