Call for old Welsh rockers to reunite at festival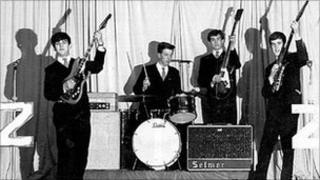 Organisers of an arts festival aimed at the older generation are calling on bands from the 50s, 60s, and 70s to reunite for a one-off performance.
This year's Gwanwyn Festival is being held across Wales throughout May and is run by charity Age Cymru.
The charity wants to recreate all the sounds and sights of the early days of rock and roll.
Organiser Phil Thomas said the aim was "to get bands back together again" to perform to their fans.
He said: "We're not necessarily talking about the big names, but perhaps the less well-known bands that were so much a part of the way our older people grew up in Wales.
"We want these bands to blow the dust off those old instruments and show the world they've still got what it takes.
"We need music fans from across Wales to encourage some of the groups and bands from the early days of rock n' roll to get together again for one night only."
The festival, which takes its name from the Welsh for "springtime", aims to "celebrate the opportunity of older age for renewal, growth and creativity", using the arts.
Lead by Age Cymru, it is a initiative involving the Arts Council of Wales and the Welsh Assembly Government, as well as local arts and community groups, public libraries, museums, schools and care centres.
If you are a music fan or musician and would like to be a part of 'Together Again - For One Night Only', contact the Gwanwyn Festival team on 02920 431555 before 28 February 2011.