Campaigners urge assembly to match tainted blood cash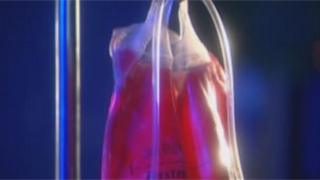 Welsh ministers are being urged to match extra payments made to people in England damaged by contaminated NHS blood in the 1970s and 80s.
The UK government is doubling to £50,000 payments to people most affected by Hepatitis C and there will also be annual payments of £12,800.
Almost 4,300 people - mainly haemophiliacs - were infected after being treated in the 1970s and 80s.
The assembly government is to consider the issue "as quickly as possible".
Announcing his decison on Monday, UK Health Secretary Andrew Lansley described the episode as one of the great tragedies in modern health care.
In response, Cardiff Central MP Jenny Willott said victims in Wales "must not be treated worse than those who live in England".
She called the funding, up to £130m during the course of this Parliament, a "significant step forward for victims of the contaminated blood scandal and their families".
"It has taken over 20 years to get this far and too many victims have already died without seeing justice," she said.
"I am particularly saddened that Haydn Lewis and his brother Gareth both passed away in 2010 before they could see the results of their long campaign."
Ms Willott said she had written to Health Minister Edwina Hart urging her to make the finances available as soon as possible.
She said: "It is vital that the Welsh Assembly Government finds this money."
In October last year, Pontypridd MP Owen Smith secured a debate in the Commons on the issue.
It followed the death of one of his constituents, Leigh Sugar, a 44-year-old haemophiliac.
He died last June of liver cancer caused by Hepatitis C he contracted through contaminated blood in the 1980s.
The Department of Health said it was a devolved matter but "but we stand ready to implement on a UK wide basis if they [the Welsh Assembly and Scottish governments] wish to participate".
A Welsh Assembly Government spokesperson said: "The Department of Health has announced the outcome of the review and published its report into the provision and support for those affected with HIV and/or hepatitis C via NHS-supplied contaminated blood and blood products.
"This is the first opportunity that the Welsh Assembly Government has had to see the report and to fully review its recommendations.
"The health minister will consider the implications of the recommendations as quickly as possible for those people affected in Wales."