Narberth mother killing review finds agency 'failings'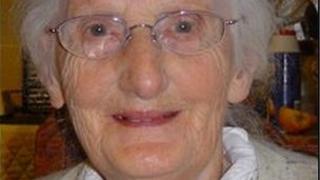 A report into the killing of a woman by her paranoid schizophrenic son has highlighted shortcomings among mental health agencies in Pembrokeshire.
But Healthcare Inspectorate Wales (HIW) said Margaret Ford's death in May 2009 at the hands of son Jarvis, 48, could not have been predicted.
Mrs Ford, 84, was stabbed at home near Narberth after a row over smoking.
The report found "frustrating" processes for the family to contact healthcare teams.
NHS Wales said there were lessons for all Welsh health and care organisations, while the local health board and Pembrokeshire Council "fully accepted" the findings and said changes were being made.
Jarvis Ford, an engineering graduate and former computer programmer and gardener, had a long history of mental health issues going back 24 years.
Ford and his mother had moved to the area from Solihull in the west Midlands in 2007 to be nearer to other family members.
The report found there was "little" in Ford's medical history to suggest others were at risk from him and when unwell Ford was of greatest risk of harm to himself.
On the day of Mrs Ford's death in May 2009, a care team had visited the house with the family reporting Ford "argumentative/aggressive, confused and unpredictable" and an issue over his medication.
Mrs Ford's daughter later called a mental healthcare officer about a deterioration in his condition but in a subsequent phone call with Mrs Ford she said her son was "all right" and a visit was arranged for the next day.
That evening Ford stabbed his mother nine times.
He admitted at Swansea Crown Court in October 2009 a charge of manslaughter on the grounds of diminished responsibility.
He was detained indefinitely at a secure unit under the Mental Health Act.
The report into the issues leading up to Mrs Ford's death raises concerns about the adequacy of the care and treatment provided to her son.
It makes a number of recommendations in light of its findings.
It said arrangements for the transfer of Ford's care from Birmingham and Solihull Mental Health NHS Trust to South Pembrokeshire Community Mental Health Team were "less than optimal", adding that a direct referral would have lessened the risk.
It found that "insufficient regard" was given to an assessment of Mrs Ford's role as a carer for her son.
While frontline staff had acted appropriately, mental health workers in the Narberth area faced "significant" support and resource issues, said the report.
This meant a small team was covering a wide geographical area, resulting in many of the shortcomings identified by the review.
HIW also found that Hywel Dda Health Board's care and treatment of Ford was "not sufficiently robust". This lessened the chance of preventing any relapse in his behaviour, it said.
'Inadequate and burdensome'
The report also criticised the "frustrating and cumbersome" process by which carers and family members had to contact the social and healthcare teams, and said communication between these teams was also inefficient.
Access to emergency mental health assessment and care was "inadequate and burdensome", it found.
Speaking after the publication of the report, Dr Peter Higson, chief executive of HIW, said: "The purpose of our investigation was to identify learning to ensure that mental health services are better able to minimise the risk of similar incidents in the future.
"While our review concluded that this homicide could not have been predicted, it has highlighted a number of shortcomings."
He added that the health board was now reviewing the issues to ensure "necessary improvements" would take place.
In a joint statement, Hywel Dda Health Board and Pembrokeshire County Council said they fully accepted the review's findings and welcomed HIW's recommendations.
Mr Trevor Purt, chief executive of Hywel Dda Health Board, said: "This was a tragic and unforeseeable event which has had a profound effect on all those involved and has shocked and saddened a whole community."
Mr Purt said that changes had already been made within the board to address the issues raised by HIW and to create more integrated health and social care services.
Angela Watwood, head of community care commissioning for Pembrokeshire council, also said lessons had been learned from this "tragic incident".
'Disappointed'
"We would like to assure Mrs Ford's family and friends, and the community of Pembrokeshire that the county council and Hywel Dda Health Board are working with all the relevant agencies to ensure that we do everything possible to prevent a similar incident happening in the future," she said.
Paul Williams, NHS Wales chief executive, called for all health and social care organisations in Wales to consider their processes in light of HIW's recommendations.
"As this report shows it can be extremely difficult caring for and supporting people living with a mental health condition and this can pose particular challenges for families," said Mr Williams."
Dr Tony Jewell, Chief Medical Officer for Wales, said guidance had been issued last year to ensure local health boards improved mental health services, speeded up access to diagnosis and treatment and responded to people experiencing deterioration in their mental health so that they could be helped sooner.
"I would like to assure people that those living with mental health conditions are far more likely to harm themselves than anyone else," said Dr Jewell.
"We must do as much as we can to help and support these individuals as well as their families."
Mr Ford's sister Elizabeth told BBC Wales the family were "disappointed" by the report as they felt their concerns were not listened to at the time and that Jarvis Ford should have been hospitalised on the day he attacked his mother.
They also say they disagree with the policy of allowing patients to self-medicate and question whether there were no signs in his medical history to show he was capable of a violent attack on another person.