RSPB celebrates 100 years of bird conservation in Wales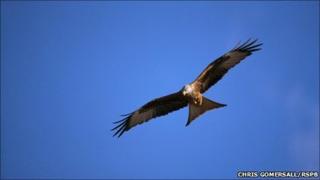 Conservation charity RSPB Cymru is celebrating 100 years protecting birds and wildlife in Wales.
The group says it has come a long way since 1911, and has helped save important species like the red kite and the black grouse.
To mark the milestone, the charity has announced that it will join forces with the Welsh Girl Guides throughout its centenary year.
It is hoped the partnership will safeguard bird conservation in Wales.
A Mr and Mrs Jones were the first employees of the charity, working on a small project to protect seabirds in Anglesey in 1911.
RSPB Cymru now manages 18 nature reserves in Wales, employs 150 staff, and has over 800 volunteers across the country.
The reserves offer environmental education experiences for almost 10,000 children each year, and now every girl guide in Wales, from Rainbows to members of the Trefoil Guild, are being invited to spend a day learning about nature and take part in activities.
Girl Guiding Cymru will also help to survey birds across Wales by taking part in the Big Garden Birdwatch and the Volunteer Farmer Alliance Project.
RSPB Cymru director Katie-Jo Luxton said: "Through our increasing number of nature reserves, we're helping more and more people to enjoy the wildlife of Wales and giving them first hand experiences."
"The centenary year is something for us to really celebrate as it marks various milestones in conservation in Wales and shows what a difference we've made."