Campaign says 100 threaten TV licence protest over S4C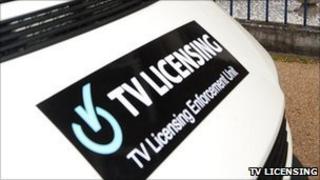 More than 100 people have said they will not pay their TV licence in protest at changes at S4C, say Welsh language campaigners.
The Welsh Language Society has asked people to stop paying for the licence until the UK government guarantees what they say is sufficient funding for S4C.
Singer and Plaid Cymru politician Dafydd Iwan is among those refusing to pay.
TV Licensing warned not having a valid TV licence is a criminal offence.
The Welsh language broadcaster is currently directly funded by the UK Government.
But in future it will be funded almost entirely through the BBC and with a reduced budget, a move supporters see as a blow to its independence and its future.
The Welsh Language Society, Cymdeithas yr Iaith Gymraeg, said they collected more than 100 names in support within four days of launching their campaign early last month.
Chair Bethan Williams said:"The future of our only Welsh language TV channel hangs in the balance.
"It faces cuts of over 40% in real terms, a takeover by the BBC, and powers in the hands of Westminster Ministers to get rid of S4C completely.
"It's a critical situation, that's why we are pleased that so many people have started to stop paying the TV licence.
"This is a campaign we can win and we're confident because of the rising public support for the need for a strong future for the world's only Welsh language TV channel."
Ms Williams said their supporters were following in the "same tradition of peaceful direct action campaigning" as Gwynfor Evans, the former Plaid Cymru MP for Carmarthen who threatened to fast to death if the government did not provide a Welsh-language channel.
The threat was a key factor in the decision to set up S4C, according to cabinet papers from 1980 released last month under the 30-year rule.
The group is holding hold public meetings across Wales from January until March to raise awareness of what it calls the threats to S4C and to discuss the way forward.
A TV Licensing spokesperson said: "Regardless of personal opinion, if you don't have a valid TV Licence when you need one, it's against the law and you risk a prosecution and a fine of up to £1,000."