Hotel faces 'five figure loss' after Diamond collapse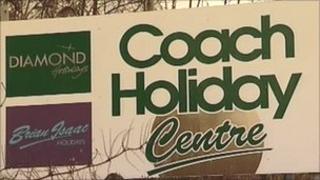 Managers of a York hotel say they could lose thousands of pounds following Diamond Coaches' collapse.
The Swansea-based coach holiday firm went into administration on Friday.
The Newington Hotel in York welcomed about two coaches of customers from Diamond every week.
Manager Mike Harrison said the hotel had been expecting more than 250 guests in the next four weeks and added: "We're looking at a five-figure loss if we can't recover that business."
"The first we heard about it was when a Diamond client rang us to ask if we knew about the collapse. After that the phone didn't stop ringing with anxious people hoping to still go on their holiday.
"We've worked with Diamond for the last two or three years and we were expecting an arrival this week and every week until the first week of February.
Refunds
The hotel is now offering discounts to Diamond customers who are still planning to visit the area.
Mr Harrison said: "I hope that our offer can go some way to alleviating the angst people have suffered and we'd encourage customers to get in touch. We'd be happy to look after them."
Diamond Coach Holidays began in 1954 and carried 80,000 passengers annually. The business includes Brian Isaac Coaches Ltd.
It was Wales' largest holiday coach operator and offered day trips and package holidays to destinations across the UK and Europe.
PricewaterhouseCoopers (PwC), the administrators handling Diamond Coaches since the collapse, said customers who had booked holidays with the company would be entitled to refunds.
But they said the situation for day trip bookers was "less clear".
Possible takeover
Rob Lewis, partner at PwC, said every Diamond customer will receive a call informing them of the situation about refunds.
Consumer organisation Which? said customers who paid by credit card or Visa debit card might be able to obtain a refund through their card provider.
Meanwhile, administrators said they would be holding meetings with a number of companies who have expressed an interest in taking over Diamond.
One is Wales' biggest coach company, Edwards Coaches, based near Pontypridd in Rhondda Cynon Taf.
They will be discussing a possible takeover on Monday.