Royal Mint coin design marks Prince William engagement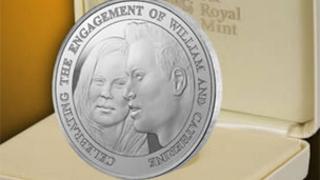 The design for the first Royal engagement coin has been revealed by the Royal Mint.
The £5 Alderney coin, inspired by photos of the couple at a sports event, will mark the engagement of Prince William to Kate Middleton.
It has been given the seal of approval by Her Majesty The Queen and His Royal Highness Prince William of Wales.
The coin will go into production at the Royal Mint's manufacturing plant in Llantrisant.
A Royal Mint spokesperson said: "The inspiration for the design came from photographs of the couple at a sporting event.
"The play on the traditional portrait is that Prince William is seen in profile, alluding to his Royal status."
The Royal Mint has produced commemorative medals and coins to mark special occasions in honour of the British monarchy for over 1,100 years, but never an engagement design until now.
It has produced special edition Alderney tender for the Channel island since 1989, commemorating a number of royal occasions.
Others including the total eclipse in 1999, the history of the Royal Navy, Concorde's last flight and the 50th anniversary of the Mini.