Refund hope for Diamond coach holiday customers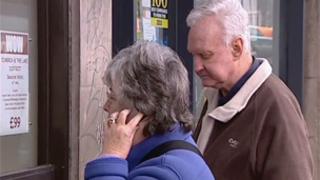 Some customers left out of pocket following the closure of Wales' largest coach holiday company can expect refunds, say administrators.
Swansea-based Diamond Coaches ceased trading on Friday.
PricewaterhouseCoopers (PwC) said customers who had booked holidays would get refunds, but the situation for day trip bookers was "less clear".
Meanwhile, PwC said several possible buyers had expressed an interest in taking over the firm.
The Swansea-based company offered day trips and package holidays to destinations across the UK and Europe.
Diamond Coach Holidays began in 1954 and carried 80,000 people on board annually. The business includes Brian Isaac Coaches Ltd.
Rob Lewis, partner at PwC said: "Customers who had holidays booked with Diamond Coaches will be covered by insurance the company had with Travel & General.
"These customers can expect a call from Travel & General who have set up a special team to contact all of these people as soon as possible."
Mr Lewis said "thousands" of customers had holidays booked with the coach firm.
But he added: "The situation is less clear for those people who had day trips booked with Diamond Coaches.
"As administrators, we are going to contact these day trip customers ourselves and we will endeavour to speak to or contact in writing these customer by the middle of next week."
While it is unclear whether customers who have paid for day trips will see refunds from the company, there may be hope if they paid by credit or debit card, said consumer organisation Which?
Customers who paid on their credit card may be able to claim a refund from their credit card provider, provided the total purchase cost more than £100, a spokesperson said.
Customers who paid using a Visa debit card may also be covered under the Visa chargeback scheme but will have to claim within 120 days of the firm ceasing trading.
Dozens of customers contacted the BBC news website with their experiences.
Vivienne Moore, 66, from Dunvant, Swansea, said she had spent £200 for her and her husband to go on a five-day holiday with Diamond to York at the end of January.
Mrs Moore said she was "gobsmacked" to hear the company had ceased trading.
"We've been going on holiday with Diamond Coaches for 10 years now," she said.
"They are very popular with lots of people round here. We've been to Italy, Amsterdam and all round the UK with them and we've always had good service.
"Last November we went on a trip to Torquay and the driver said 'some of you may have heard rumours about the company being in trouble but it isn't true'."
"Of course, I don't think he was lying. Maybe he honestly didn't know. I mean when a company is going for that long you don't expect them to close overnight.
"Its a shame for customers but also for their staff."
Meanwhile, administrators said they would be holding meetings with a number of companies who have expressed an interest in taking over the firm.
Edwards Coaches, based near Pontypridd in Rhondda Cynon Taff, is said to be interested.
Administrators will be discussing a possible takeover on Monday.