Welsh stocks of flu vaccines 'being redistributed'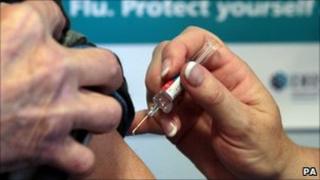 Ministers and local health boards are working to redistribute scarce stocks of flu vaccines around Wales, says the chief medical officer.
Dr Tony Jewell spoke as the whole of the UK faces a problem with dwindling supplies of the vaccine.
Health minister Edwina Hart said the number of people consulting their GP over flu rose consistently in December but may now be levelling out.
Dr Jewell said GPs were being advised to use the swine flu vaccine instead.
According to latest figures published by Welsh Assembly Government, 12 flu-related deaths had been reported as of 5 January.
In a statement on the current flu situation in Wales Ms Hart said seasonal influenza had hit the UK about a month earlier than normal and appeared more widespread than in recent years.
She added: "Indications from Public Health Wales are that the consultation rates may now be levelling out and will begin to reduce in the next few weeks, although elevated influenza activity is likely for several weeks to come."
Ms Hart said the situation would become clearer after the effect of the Christmas holidays on consultation patterns became clearer.
Dr Jewell, Chief Medical Officer for Wales, said the assembly government was aware that stocks of the seasonal flu vaccine had run very low in some areas.
He said: "Given that we have run a campaign since October to encourage vulnerable groups such as pregnant women, young children and the elderly to get vaccinated, it is natural that stocks will run down over time.
"But there has been a surge in demand for the vaccine over recent weeks.
"We are providing advice to clinicians about the option of using the vaccine that was developed against swine flu, which is available, if supplies of seasonal flu vaccine are unavailable in a reasonable time."
Meanwhile, varying levels of vaccine stocks have been reported around Wales.
Dr Graham Shortland, interim medical director with the Cardiff and Vale University Health Board, told BBC Radio Wales that it had already exhausted its supplies of the seasonal flu vaccine and is looking at ways to protect its staff and patients.
"We are looking obviously to try and get stocks as soon as possible in order to provide the seasonal flu vaccination," he said.
Dr Shortland added: "I'm well aware that plans are made in advance as to the number of vaccines that may be required but clearly that needs to be reflected upon."
Hywel Dda Health Board said it was talking to GP practices across Carmarthenshire, Ceredigion and Pembrokeshire to ensure that the vaccine is available where required.
Arrangements have been put in place to provide additional vaccine, said the board.
"Hywel Dda Health Board is working with all GP practices to share supplies to ensure those who need them can access them as soon as possible," a spokesman said.
Betsi Cadwaladr University Health Board said some GP surgeries in the six counties of north Wales that it covers had run out of the triple vaccine - for H1N1 and Influenza A + B.
A spokesperson said: "We don't have exact figures but supplies are running low across north Wales because we have had higher take-up than usual.
The board said it was awaiting approval from the chief medical officer regarding the the use of the H1N1 vaccine.
A spokesperson for Abertawe Bro Morgannwg University Health Board commented: "There has been a steady but not spectacular demand for vaccines, although it has increased a bit in recent weeks.
"Triple vaccine supplies haven't run out but stocks are running low. We have plenty - 40,000 - of vaccines for H1N1."