Uwic course cutbacks confirmed amid shake-up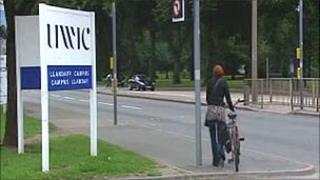 Courses, staff and students are to be reduced at the University of Wales Institute, Cardiff, (Uwic) as higher education funding cuts and changes take effect.
The university board voted to close six courses at a meeting on Friday.
It is also understood that proposals include 35 job cuts and reducing student numbers at the university's school of art.
Uwic said the institution would try to "protect academic posts".
The courses facing the axe include the university's BA in interior architecture, BA sociology & criminology/popular culture, the BSc in music technology and design/sonic arts, and BA in media studies with visual cultures.
The university said it was responding to funding cuts and the assembly government's desire to eliminate regional competition between universities.
It said the quality of learning and teaching for current students would not be affected.
Applications to the university's interior architecture course have been suspended leading to an outcry among Uwic graduates and design professionals.
Interior Educators, an organisation established by academics to represent interior design/architecture courses in the UK, sent a letter signed by representatives from 37 universities and colleges to the university urging a re-think.
Graeme Brooker, director of Interior Educators, said it was a "poor idea to remove such a highly regarded course".
"Interior Educators represents the best interior design courses across the UK," he said.
"In that group the Uwic course is regarded as one of the best so to close it is a real shock, we're quite upset."
Kimberley Johnson, who graduated from the course in 2010 and now works at a contemporary furniture supplier in Cardiff, said it has had great success in finding meaningful employment for students.
"I'm horrified that other people won't get what I've got now," she said.
"In the industry, if you say you're from this course it's highly regarded."
Recruitment at Welsh universities will be capped this year for the first time as the assembly government seeks to control the number of students it supports.
An internal Uwic document, seen by BBC Wales, reveals that the number of students at the university's school of art will be "significantly reduced" as a result of the new cap, with 25% fewer places available in future.
The document also outlines proposals to reduce staffing at the school of art by more than a third, meaning 35 jobs will be lost.
Russell Smith, who is the University and College Union (UCU) chief negotiating officer at Uwic, said he hopes the plans can be stopped.
"We don't want any redundancies," he said.
"We think they can make reductions through natural wastage and by offering voluntary severance."
University mergers
A spokesperson for the university said it realised that "changes of this nature will affect a number of current staff".
"Previous restructures have shown that the university will do everything possible to protect academic posts and that all staff are supported throughout.
"Any changes reflect the desire of the Welsh Assembly Government for universities to plan their provision on a regional basis eliminating competition."
Education Minister Leighton Andrews, has repeatedly called for mergers between universities and in December the Higher Education Funding Council for Wales published proposals to reduce the number of universities in Wales from 10 to six, with just two universities in south east Wales.
A Welsh Assembly Government spokesperson said: "Higher education institutions in Wales are autonomous bodies with sole responsibility for their own academic and administrative affairs.
"This includes course provision and staffing matters.
"It would not, therefore, be appropriate for us to intervene in matters which are for Uwic to determine."
Professor Sir Deian Hopkin has held vice chancellor posts at two different universities and chaired a committee that looked into possible collaboration between Uwic, the University of Glamorgan and the University of Wales Newport.
He told BBC Radio Wales the trend was likely to be repeated throughout the UK, particularly with arts and humanities courses.
He said: "If a course isn't recruiting and the demand isn't there, it's very difficult for a university vice-chancellor to say it's a satisfactory course but what else do we cut?
"Universities are independent institutions but when you've got the government in Wales saying..we've got to have fewer institutions, that's a big step.
"They are now saying they've got to try to adjust the whole package to suit a very important financial provision they've made for students.
"There's going to be tremendous political tension because we are seeing more people apply to university this year."
Phil Sefton, Uwic's Unison branch secretary, pointed out that it was not just academic posts under threat.
He said: "As a matter of fact it has been support staff who have suffered the most over the last year with the vast majority of the several dozen severances in July\August 2010 being non-academic staff.
I hope that compulsory redundancies can be avoided through natural wastage and voluntary severances."