Gold teeth at Bridgend Travelodge among odd finds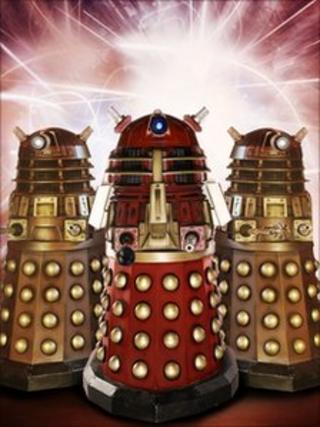 Gold dentures worth £6,500 are among the oddest items left behind by guests at a hotel chain.
Travelodge said the false teeth, found at its Bridgend hotel, rank alongside a life-size Dalek and an antique rocking horse also found in rooms in the UK.
Other items included a £50,000 diamond-encrusted Rolex watch and £10,000 in cash left in a dustbin.
"Our lost and found departments provide plenty of revelations," a spokesperson for the hotel said.
Also on the hotel chain's list of the most mysterious objects left behind during 2010 were keys to a Rolls-Royce Phantom car in Chester, Cheshire, a Hermes handbag worth £8,000 in Leamington Spa, Warwickshire, and a 4ft (1.2m) tall yam (vegetable) in Cambridge.
A suitcase of royal memorabilia dating back to Victorian times was found at the hotel's Gatwick Airport branch and a Bengal kitten called Tiger at London Docklands.
The firm said it found over 20,000 books in its vacated hotel rooms, and said the books most commonly left behind were autobiographies of X Factor mogul Simon Cowell and TV presenters Ant and Dec.
In addition, in the last 12 months hotel staff had reunited 75,000 forgotten cuddly bears with their owners, said the chain.
Jon Hendry-Pickup, Travelodge operations director, said: "Our customers' left behinds demonstrate what a broad cross-section of people stay in our hotels.
"The 2010 left-behind inventory report also demonstrated that we are truly living in a digital world."
Mr Hendry-Pickup said there had been a huge rise in left-behind portable computer and communication devices and accessories.
From this month, all items left behind at its hotels that have not been claimed within three months will be donated to Cancer Research UK charity shops across the UK, said the chain.