Welsh ambulance service winter response concern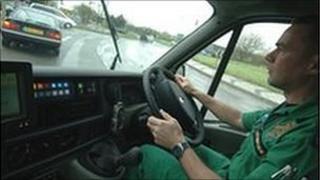 Staff and budget pressures on Wales' ambulance service need to be addressed if it is to cope with a challenging winter, it is claimed.
Welsh Conservatives have spoken out after the ambulance service missed the 65% target for eight-minute emergency response times in November.
The Welsh Ambulance Service Trust (WAST) blamed poor weather for missing the target.
The assembly government said it met the target nine out of 11 months in 2010.
Official statistics published by the assembly government show 64.7% of first responses to immediately life-threatening calls arrived within eight minutes, the accepted standard, during November last year.
This represents the lowest such performance figure since January last year.
During November, Wales' ambulance service received just over 29,000 emergency calls, up 7.9% compared with the previous November.
Nick Ramsay AM, Welsh Tory health spokesman, said: "It is disappointing that despite the hard work and dedication of ambulance staff, emergency response times are not being met."
He called on Health Minister Edwina Hart to "work more effectively" with trust officials and local health boards to ensure that the NHS responded to the emergency calls more efficiently.
"The Labour-Plaid Government needs to address staffing and budgetary pressures in what is increasingly becoming a challenging winter for Wales' emergency services," he said.
'Adverse weather'
A WAST spokesman said problems began with bad weather in late November.
"We saw a significant rise in weather-related calls," he said. "From 26 November until the end of the month, ambulance crews dealt with 784 fall incidents across Wales.
"After this, due to access problems and reduced driving speeds, the eight-minute response time standard was difficult to achieve."
But, the spokesman added that joint planning with other emergency services and voluntary organisations, meant the trust could provide continuity of essential services.
Head of health at Unison Wales, Dave Gallaghan, said the Conservatives were not being truthful in their criticism.
He told BBC Wales: "I think it's a bit disingenuous of the Conservatives, when they are about to give the ambulance service a two-year pay freeze, to start blaming the health minister or the chief executive.
"We shouldn't expect the health minister to micromanage every situation.
"I think the leadership of the new chief executive is commendable in his support from the service and his struggle to get extra resources."
Elwyn Price-Morris is currently Wast's interim chief executive after Alan Murray stood down after four years in post.
The Welsh Assembly Government said the Welsh ambulance service had met the response time target nine out of 11 months in 2010.
"This is as a direct result of the hard work and commitment of the trust's staff who have worked with great dedication," said a spokesperson.
"However, they have fallen slightly short of the target in November.
"The trust board and executive management team now needs to show very strong and visible leadership within the organisation and demonstrate that it is totally committed to sustaining the target across Wales."