Gay rugby player Gareth Thomas 'prayed to be straight'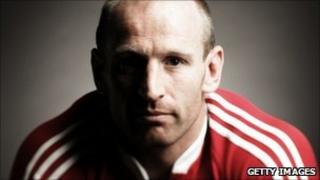 Ex-Wales rugby captain Gareth Thomas has been speaking on a popular American chat show about the struggle he faced before publicly declaring that he was gay.
The Crusaders star told host Ellen DeGeneres this week that before his marriage he used to visit church and "pray to be straight".
He made the public admission about his sexuality in 2009.
It follows Mickey Rourke saying he hopes to play Thomas in a biopic.
The Hollywood actor was speaking on a Christmas edition of the Channel 4 talk show Alan Carr: Chatty Man and hinted should the film be made, he would even learn Welsh for the role.
Thomas, who is nicknamed Alfie, and grew up in Sarn, near Bridgend, appeared on the DeGeneres show in front of a TV audience of millions to talk frankly about his coming out experience.
He related how the first person he told was his wife, Jemma, who he divorced earlier this year, before broaching the subject with his parents.
And he also spoke of his struggle to conceal his secret from his Welsh team-mates.
He said: "I became the master of playing the straight bat- I would go to bars with the boys, I would always be the one to start a fight, to be outrageous and drink the most.
"I even went to the extreme of marrying the perfect woman for me.
"I remember I used to go to the church we were due to get married in and I would sit there in the graveyard and look up to the steeple..clench my hands and close my eyes as tight as I could and pray to be straight."
'Acceptance'
Thomas revealed that when he first told his parents there was silence, but three weeks later he visited them at home and saw three champagne glasses on the table.
He said: "My mother said 'Fetch the champagne from the fridge' and I replied that I didn't know why we were drinking champagne.
"My father, who is a tough guy and doesn't say much, said 'Son I just want to sit here and toast to the rest of your life'.
"I knew then that was an acceptance from my family."
The player admitted that other gay sportspeople had confided in him since his public statement.
He said: "I don't try and coax people to come out because it needs to be right for them as an individual but when I speak to some people I realise that the power and influence that famous sportspeople have is amazing and to show such a positive message can change the world."
After the show DeGeneres, who is herself openly gay, posted a message on Twitter saying: "Gareth Thomas is the first openly gay male athlete on any pro team. He's a hero, and I talked to him today."
Thomas has always said he doesn't want to be known as a gay rugby player and is a rugby player who "just happens to be gay".
This view was echoed by Rourke when he spoke to Alan Carr.
He added: "To be a man who plays rugby who is gay and to live with that secret for the amount of years that Gareth had, to perform at the high level that he performed at, it takes a lot of courage."
Delme Parfitt, the ghost-writer for Thomas' autobiography, published before he came out, said Thomas had a connection with America and may have appeared on the Ellen show with a view to furthering his post-rugby career.
He told BBC Wales: "There's already been this interest in him from Mickey Rourke making a film about his life but him appearing on this show is huge and seems to be on a bigger scale than anything he has done since his announcement.
"I think he has got a few projects off the ground in America and sees it as a second home."