Welsh police cuts but 'frontline can be protected'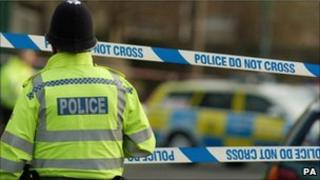 Dyfed-Powys Police warns it is likely to cut up to 350 jobs, as the four Welsh police forces have been given details of savings they need to make.
Welsh Office Minister David Jones admits cuts of 5.1% in 2011/12 and 6.7% in 2012/13 are "challenging" but believes frontline policing can be protected.
South Wales Police Federation said officers were fearing for jobs.
Ex-Home Office minister Alun Michael said it was "extremely worrying".
Every force in England and Wales has had the same percentage reduction in funding, the Home Office said.
Mr Jones said it was "clear that Welsh forces can make the necessary savings while protecting the front line and prioritising the visibility and availability of policing.
"By cutting out costs and scrapping bureaucracy we are saving hundreds of millions of pounds and hundreds of thousands of man hours across the UK, enabling our police officers to be out on the streets chasing criminals instead of spending their time in the office chasing targets."
He said all Welsh forces were embarking on a period of major change, but would continue to protect the public.
Mr Michael said the situation was "extremely worrying" and he thought the plan to take rural funding away from forces like Dyfed-Powys was a "ridiculous" idea.
The Cardiff South and Penarth MP told BBC Wales: "The police are not going to disappear from our streets - they will do their best but it's going to be extremely challenging.
"We need police to be there to nip things in the bud when we get these low level offences and that's been done in the Welsh police forces quite well and that's why we have seen crime levels come down.
"If you get to a more reactive situation it will be turning the clock back and that's why I think that the government are wrong in front-ending.
"These cuts are going to go very deep, very early and it's going to be very challenging for the police."
Assembly government funding for the four Welsh police authorities for 2011-12 will be £161m - a 3.46% cut in cash terms in the next financial year.
Social Justice Minister Carl Sargeant said the Welsh police authorities had a very good record of collaboration, and that would grow in importance in future years but warned of "hard choices".
Delyth Humfryes, chair of Dyfed Powys Police Authority, said it faced cash reductions of £7.012m, or 11.5%, over the next two years.
"Cuts of this magnitude will inevitably alter the way in which policing services are delivered in future," she said.
She added the cuts, which she said did not acknowledge the additional pressures involved in policing a large rural area, were likely to result in 250 to 350 job losses.
She said: "The future will be very different to what it is now and we will really have to prioritise in future when life is at risk and not follow up every crime that has been committed.
"The small crimes that just get an insurance number in other forces - we've never done that but in future the chief constable will have to look at new ways of saving money."
Gary Bowen, chair of the South Wales Police Federation said officers were fearing for their jobs.
He said: "Our concerns are that this figure of 20% over four years is being introduced by people who have no idea.
"I struggle to see how they will achieve these cuts by merely saying they are going to reduce bureaucracy and backroom staff.
"When you think 80% of the police budget is spent on people, if we got rid of everything the service is paying for staff, clearly we will cover the cut but quite clearly that isn't going to be the result and they are going to cut people as well."
Russell Roberts, chair of South Wales Police Authority, said it was working hard to see how cuts could be planned to minimise their impact.
"This is undoubtedly going to be a difficult process, and painful decisions are going to have to be made," said Mr Roberts.
'Massive impact'
He added: "The home secretary has previously said that she wants police officers to continue to cut crime and catch criminals, within drastically reduced budgets. This is a huge challenge, but also represents a fairly naive view of what modern day policing entails.
"So much policing work is hidden from public view, and is simply not limited to the visible aspect of officers walking on the beat or driving police cars.
"To stop the less obvious policing work could have a massive impact on south Wales, and this is something we will find hard to accept.
Plaid Cymru's Elfyn Llwyd, a member of the House of Commons Justice Committee, described the cuts as "irresponsible".
"Just how exactly the UK government expects to see a fall in crime rates at the same time as slashing the policing budget is beyond me," said the Meirionnydd Nant Conwy MP.
Wrexham MP Ian Lucas said: "North Wales Police Authority have already warned they expect job losses to follow and the chief constable told North Wales politicians at a recent briefing that he expected 200 police officers could be lost".