Freezing temperatures in Wales trigger more payouts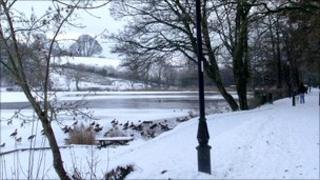 More than a dozen weather stations in Wales have recorded temperatures low enough to trigger £25 cold weather payments by the UK government.
Eight sites, including five along the border with England, have been triggered for the second week in row.
Last week, 72,000 people received the payment, totalling £1.8m. More are set to have it on Wednesday.
Meanwhile, temperatures dropped as low as -9C in Trawscoed, Ceredigion overnight with a severe frost.
And temperatures of -8C (17.6F) near Hay on Wye and -7C (19.4F) at Tirabad near Llanwrtyd Wells were also recorded.
Ysgol Gymraeg Ynyswen in Treorchy is closed for years 3, 4 and 5 while Ysgol Gymraeg Bro Allta in Caerphilly is closed to all pupils.
Payments are made to eligible households whose postcode is linked to the weather station.
These include pensioners, disabled adults and children, and families with children under 5 who receive related benefits.
The weather station at Tirabad, between Sennybridge and Llanwrtyrd Wells, saw a new local record of -14.3C (6F) last week.
Cold weather payments are made for each seven-day period when average temperatures are recorded as, or forecast to be, 0C (32F) or below.
Meanwhile, the temperatures should nudge a little higher throughout the rest of the week although breezes mean there will still be a chill in the air.
Mist and fog patches further east could produce a few snow grains but should lift to leave Wednesday a largely dry day.
Northerly winds will pick up meaning highs of between 0C and 5C.
Wednesday night will remain cold yet dry with temperatures beginning to rise, thanks to a change in wind direction.
There will be more moisture in the air with more cloud and fog around but temperatures are expected to plummet again next week.
The weather stations in Wales which cover areas which do not straddle the border with England are: Aberporth and Trawsgoed, Ceredigion; Capel Curig, Conwy; Mona, Anglesey; Pembrey Sands, Carmarthenshire; Rhyl, Denbighshire; St Athan, Vale of Glamorgan and Tredegar, Blaenau Gwent.
The weather stations that straddle the Wales-England border are: Filton, South Gloucestershire; Hawarden Airport, Flintshire; Hereford-Credenhill, Herefordshire, Lake Vyrnwy and Sennybridge (Tirabad) Powys; and Shawbury, Shropshire.
Those that have triggered payments for a second week are: Capel Curig, Trawsgoed, Tredegar, Filton, Hereford-Credenhill, Lake Vyrnwy, Sennybridge and Shawbury.