Panic buttons for 1,000 NHS community staff in Swansea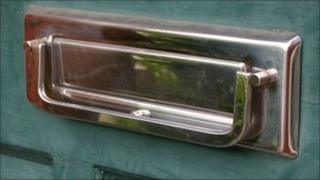 More than 1,000 NHS staff working alone in the community are to be given "panic buttons" by a local health board.
Abertawe Bro Morgannwg University Health Board said the devices would allow control room staff to locate the worker and listen to what was going on.
There have been 98 incidents over the last year in patients' homes in an area stretching from Swansea to Bridgend.
It is expected the scheme will be rolled out across Wales, involving 8,000 devices.
A health board spokesperson said: "It will give them extra confidence to know that help is close at hand and at the press of a button someone is there."
Abertawe Bro Morgannwg University Health Board (ABM) said the move was driven by concerns in Wales' NHS about the increasing levels of aggression shown towards their staff by the public.
ABM said it was determined to reverse this trend.
Between November 2009 and October 2010, ABM staff reported 98 incidents in patients' homes.
This was around 8% of all incidents of violence and aggression reported against ABM staff.
The devices are to go to staff working alone in the community in the Swansea, Neath Port Talbot and Bridgend areas.
'Confidence'
Once activated, the panic button connects the health worker to a control centre on a one-way channel.
The operator can hear what is happening, allowing them to call the police or other support.
The spokesperson added: "In an ideal world staff would never have the need to use these devices, but I am sure that they will give them more confidence as they carry out their important work in the community."