Frozen waterfall climber rescued after fall in Beacons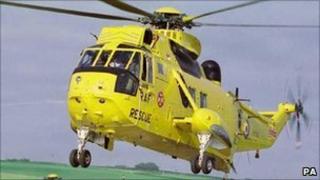 An ice climber has suffered serious back injuries after a 60ft fall from a frozen waterfall in the Brecon Beacons.
A helicopter from RAF Chivenor, Devon, took him to hospital where it was found he had fractured three vertebrae.
Afterwards, Brecon Mountain Rescue Team's deputy leader said plans to downgrade the Chivenor operation should be reconsidered.
The Department for Transport said no decision has been taken on Chivenor's future.
The unnamed climber, from Cardiff, lost his footing when the ice beneath his feet gave way.
About 30 members of four mountain rescue teams, including the Brecon team, were involved in the two-hour rescue operation which began at about 1600 GMT on Saturday.
The climber was tackling the frozen waterfall with a friend at Torpantau, south of Talybont on Usk.
He fell around 20ft and then fell a further 40ft onto a rock, mountain rescuers said.
Two other ice climbers who were nearby, including a former member of the Brecon Mountain Rescue team, went to his aid and stabilised him until rescuers could arrive.
Mark Jones, deputy team leader at Brecon Mountain Rescue Team, said it was "a very difficult rescue in very difficult conditions".
It was also the second in just over a week involving RAF Chivenor crews.
Mr Jones said that on Friday, 26 November, a helicopter RAF Chivenor battled driving snow to rescue a 70-year-old man with two leg fractures and hypothermia from the Brecon Beacons.
He criticised government plans to downgrade the search and rescue service from Chivenor which currently operates across large parts of south Wales.
Earlier this year, the UK government announced plans to halve 24-hour cover at Chivenor but these plans were suspended in the Spending Review in October.
'Greater risk'
Mr Jones said: "Both these rescues would have been certainly more difficult if we had to carry them off the mountain and, in the second case, it would also have put the casualty through a lot more pain.
"If these cutbacks do take place we are certain that they this will bring a higher risk to both the rescuers and the casualties.
"While we appreciate that these cutbacks need to take place for a reason, they are going to put rescuers and casualties at greater risk."
A spokesman for the Department for Transport said no decision had yet been taken following the suspension of plans to halve 24-hour cover at Chivenor.
He said an announcement would be made "in due course".