No thaw in sight for winter Wales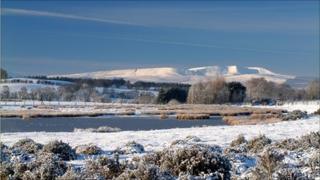 Severe weather warnings remain in force across much of Wales, with forecasts warning that there is no thaw in sight.
The Met Office says outbreaks of sleet and snow will spread from the west during Friday night, with flash warnings for icy roads covering Wales.
While it will not be as cold overnight, there is a warning that the freezing conditions will return next week.
Overnight on Thursday, temperatures of -12C (10F) were recorded in Powys.
It has led mountain rescue teams and park wardens in the Brecon Beacons to urge anyone venturing into the hills to "think safe in the snow".
Western area warden Jon Pimm said: "The Brecon Beacons looks like a picture postcard. While it is a real treat to be in the hills in these conditions, anyone out and about should be aware that special precautions need to be taken.
Reservoir danger
"In the last few days it has been quite worrying to see some people going for a walk, who have not realised the extent of the dangers associated with the conditions and are not properly equipped."
Welsh Water Dŵr Cymru has also urged people to stay away from frozen reservoirs.
"The ice might look tempting, but you could easily fall through," operations director Peter Perry said.
"Most of our reservoirs are in remote locations, and summoning help would be difficult.
"They are also very deep, with depths of up to 80m (262ft).
"So our message to people is: 'Don't risk your life on reservoir ice'."
Snow has continued to fall in parts of Wales through Friday, in the Merthyr Tydfil areas, parts of Powys and Ceredigion.
Forecasters say temperatures will drop to a minimum of -1C (30F) for much of Wales overnight on Friday, with rain and sleet turning to snow over hills.
On higher ground, snow could reach 5-10cm (2-4in).
The continuing cold weather has led to disruption of the north-south air service, which was forced to divert to Hawarden, Flintshire earlier because of an icy runway at RAF Valley on Anglesey.
More than 20 schools, mostly on Anglesey, were also closed on Friday.
The Royal Mail said there had been disruption to services in some "deep rural" areas of Wales.
The weather has also caused Sunday's British Heart Foundation's 'Santa Jog' in Cardiff and the Torfaen 10K race to be postponed.
Freeze returns
BBC Wales' weather presenter, Sue Charles said the rise in temperatures is a "brief respite".
"Saturday morning will feel quite murky, with poor visibility in the hills and outbreaks of rain, sleet and snow spreading eastwards," she said.
"But with more of a south-westerly airflow, it is not as cold, and we could even see 8C (46F) in Swansea.
"Sunday's definitely the brighter day of the weekend - generally cold, dry and sunny.
"But this is just a brief respite with the higher temperatures over the weekend - it is turning colder again next week, with overnight frosts - and no significant thaw."
BBC Wales has the latest online weather updates.