127 guests at Cardiff hotel suffer winter vomiting bug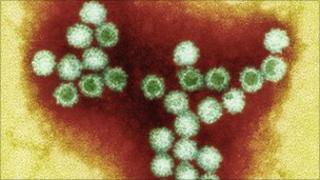 Health officers are investigating an outbreak of a winter sickness bug which has affected about 127 guests at a Cardiff hotel.
The cases of norovirus have been identified in guests who used a function room at the Park Plaza between 24 and 27 November.
The hotel said the infected area had been "sanitised and quarantined", eradicating "potential further risk".
Cardiff Council is investigating the outbreak.
"The hotel only became aware of the spread on Monday morning when we were contacted by individuals who had fallen ill over the weekend," the hotel said in a statement.
"We immediately contacted senior officers from the city's environmental health department who assessed the situation and are continuing to work with us.
"Upon advice from environmental health officers, we have sanitised and quarantined the infected area, using an approved contractor, and have eradicated any potential further risk.
"The hotel would like to stress there have been no other reports of the virus being contracted from any other area of the hotel and we deeply regret the obvious discomfort to which some of our guests have been subjected."
Cardiff Council's Communicable Disease Team said norovirus is highly infectious and one of the most common causes of gastroenteritis in the UK, particularly in winter.
It is known as the winter vomiting disease due to its seasonality and typical symptoms.
Executive Member for Environment Coun Margaret Jones, said: "Unfortunately, it is very difficult to prevent Norovirus occurring in the community.
"However, taking good hygiene measures, like frequent hand washing, can reduce the spread of infection.
"The communicable disease team has worked with the hotel to ensure remedial measures have been taken. They continue to monitor the situation closely."