Wind prevents heavy snow in Wales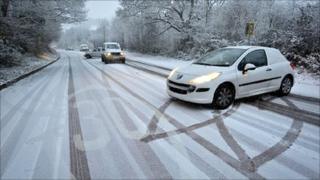 While much of England and Scotland is dealing with an early start to winter, Wales has escaped with relatively light snowfall.
The north and eastern counties on the border with England, as far south as the valleys, have seen some snow, but many other areas were not hit as hard.
The reason it seems, is where the snow has come from - the north east.
When the cold blows from Siberia, people along coastal Wales are the last to have what it brings.
The source of the unseasonably heavy snow this year is a cold, dry wind moving across the North Sea from Scandinavia and even further east.
Called a polar continental, it picks up moisture from the relatively warm North Sea below it and then dumps this moisture as snow once it hits land.
The stronger the wind, the further inland the snow is pushed.
The current arctic blast has seen snow fall heavily across much of England and Scotland but most of Wales has escaped the worst.
But the weather pattern will begin to change from Friday.
BBC weather forecaster Derek Brockway said: "Tomorrow the wind will drop and with clearer skies there will be lower temperatures, in central Wales -15C is possible in places.
"The wind will change direction and a front will spread a mixture of rain and snow across the country on Friday afternoon. Given the ground is frozen, there is a risk of ice.
"The weekend temperatures will be a little higher but it will still be cold with some frost and a continuing risk of icy patches."