US poet wins £30,000 Dylan Thomas prize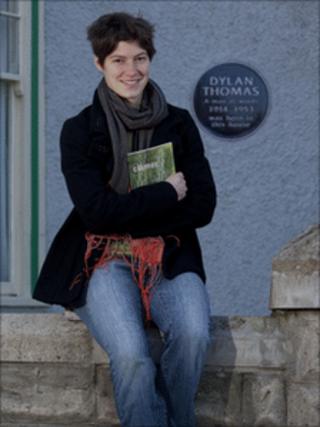 An American writer has won a £30,000 literary award for her collection of 21st Century poetry.
Elyse Fenton has been awarded the University of Wales Dylan Thomas Prize, set up to honour the Welsh poet and encourage writing among the young.
Ms Fenton's collection Clamor is the first book of poetry to have won.
Stefan Mohamed, 22, from Powys, won the prize's debut £5,000 Sony Reader Award category for unpublished writers with his novel Bitter Sixteen.
The winner was announced at an awards dinner in Dylan Thomas's home city of Swansea, hosted by Welsh comedian and broadcaster Chris Corcoran.
Clamor was born out of Ms Fenton's US medic husband being deployed to Iraq and the fragments of instant messaging conversations they shared over the internet.
Judge Peter Florence, founder of the Hay Literary Festival, called the winning work "spectacular".
"It's a great winner. It's an astonishing, fully accomplished book of huge ambition and spectacular delivery. For this prize of all prizes it's great to have a poet."
Gwyneth Lewis, poet and member of the judging panel, said the poetry collection had links with Dylan Thomas's work.
'High order'
"The book's vision of the relationship between love and war is more than worthy to be considered in the tradition of Dylan Thomas's work.
"This is poetry of a very high order."
The Dylan Thomas Prize is the latest in a number of accolades for Clamor, which won the 2009 Cleveland State University Poetry Center First Book Prize and the 2008 Pablo Neruda Award from Nimrod International Literary Journal.
Ms Fenton, from Philadelphia, was one of six finalists and beat writers from around the world to win the Prize.
British poet Caroline Bird, Nadifa Mohamed from Somalia, Canadian Eleanor Catton, Indian-born Karan Mahajan and Scot Emily Mackie were all on the shortlist.
Ms Fenton and the other finalists have been in Wales for the past week holding creative writing workshops for students and pupils.
The £30,000 University of Wales Dylan Thomas Prize is awarded to the best eligible published or produced literary work in the English language, written by an author under 30.
Ms Fenton is the third winner of the award following Nam Le with The Boat in 2008 and Rachel Trezise with Fresh Apples in 2006.
The Dylan Thomas Prize used to be awarded every two years with £60,000 prize money but as of this year it is now an annual event with £30,000 winnings.
The new category for unpublished British novel writers under the age of 30 was won by Stefan Mohamed, from Knighton, whose novel involves an eccentric Welsh teenager gifted with superpowers.
His novel will now be published in an electronic book format as a result of winning the prize.