Has Wales done its homework on uni tuition fees?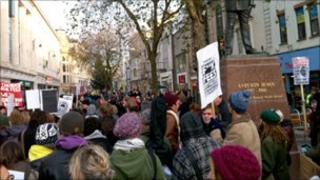 Sixth-formers and students gathered in the centre of Cardiff on Tuesday afternoon for what they called a "carnival against cuts".
They began with the usual chorus against tuition fee increases, but by 3pm half of the assembled crowd did not know whether to protest or celebrate.
The education minister in the Welsh Assembly Government had just announced that students living in Wales would pay no more in fees than they pay now.
From September 2012, Welsh universities will charge fees up to £9,000.
Students from England, Scotland and Northern Ireland will pay the full rate.
But those resident in Wales will receive an assembly government grant covering any costs over £3,290, wherever in the UK they choose to study.
It means a student from Wales may study at a top UK university for two-thirds less than his or her English equivalent.
In some cases, students from England will pay up to £17,000 more for exactly the same course.
As Education Minister Leighton Andrews addressed the Senedd, a usually reserved chamber broke into whoops and cheers.
The Labour-Plaid Cymru coalition in Cardiff Bay were setting out a very different policy to the one proposed by the Conservative-Liberal Democrat coalition in Westminster.
Some national newspapers have led the cries of injustice.
To rub salt into the wound, students from elsewhere in the European Union will receive the same subsidy at Welsh universities as those resident in Wales.
Are people really being punished for being English?
This, Mr Andrews says, demonstrates "the benefits of devolution".
The Welsh Assembly Government has looked after students who reside here, but those from the rest of the UK must pay the going rate.
Plaid Cymru Assembly Member Nerys Evans points out that there's nothing stopping the UK government following suit.
However, the mathematics work in Wales' favour.
Just about affordable
This policy would be prohibitively expensive on a UK scale.
But for Wales' 40,000 students, it's just about affordable - £140m for the first two years alone.
It will be financed by cutting the Welsh university budget by 35%.
Universities will charge fees of between £6,000 and £9,000.
With 25,000 students from England studying in Wales, the income from their fees will be absolutely crucial in ensuring sufficient funding for the Welsh university sector.
The new grant for Welsh students is only affordable if English students continue to sign up to Welsh universities in sufficient numbers when the fees increase in September 2012.
But what if they don't?
The plans for English universities are designed to encourage successful universities to expand.
Meanwhile, Welsh student recruitment will be capped. There are only so many five-figure grants the public purse can support.
Should English students choose to study at English universities in increasing numbers, Welsh universities may see a hole in their finances emerge.
The assembly government says the plans are costed for the next six years.
If the sums add up, it will leave a generation of Welsh graduates better off than their English counterparts.
In Cardiff city centre, Welsh students applauded the assembly government's decision.
For English students, the sense of injustice deepened.