Wales' chief vet backs warnings over sky lanterns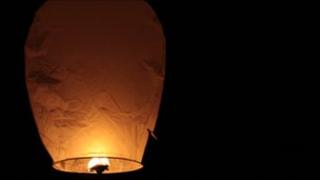 Wales' chief veterinary officer has urged people to think again about releasing sky lanterns, warning they can hurt livestock.
It follows campaigns by farming unions who have highlighted the risk the lanterns pose to animals and farm buildings.
Christianne Glossop said there have been increasing reports of damage caused by the lanterns.
Coastguards have also said they are receiving calls about them.
The lanterns- which are similar to hand-held hot air balloons - are launched at outdoor parties and weddings and seasonal celebrations like Chinese New Year.
The Welsh Assembly Government has received reports that their release is causing stress and injury to farm animals, while the flames produced by them are a "very real threat" to buildings, especially in rural areas.
""We are receiving an increasing number of reports from farmers, the farming unions and others of the damage that Chinese lanterns are causing," said Dr Glossop.
"The reports include harm to livestock, and in some instances death, caused by cattle ingesting the metal wires contained within the lantern frames."
Earlier this year, farmers in north-east Wales said they were being forced to carry out patrols looking for the remains of the lanterns in fields.
It has also led to an all-Wales survey into the issue by the Farmers' Union of Wales (FUW).
The union's Glamorganshire county officer, Adrian Evans, said in one case, an FUW member had a sky lantern land in a barn.
"It could very well have set the barn and its contents of hay and straw on fire as the lantern was still smouldering," he said.
In August, the Maritime and Coastguard Agency (MCA) said it had seen a seven-fold increase in calls sparked by sky lanterns.
A spokesman said: "They hang in the sky and look identical to a red distress flare."
Dr Glossop said people who want to use lanterns should:
Assess the likely impact that the lantern may have on its surroundings
Follow the manufacturer's instructions
Use a biodegradable lantern
She also suggested that users consult their council or fire service for advice on launch locations.
"I urge people to consider carefully the implications of releasing a lantern," she added.