Arrests in 1988 Phillip Saunders murder case probe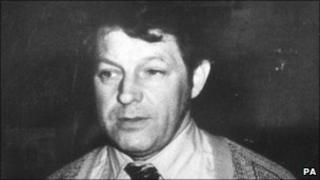 Two people have been arrested by police investigating alleged perjury and perverting the course of justice in relation to a 1988 murder trial.
Michael O'Brien and two other men spent 11 years in jail before they were cleared of killing Cardiff newsagent Phillip Saunders, 52.
He alleges evidence was fabricated by police in the murder investigation.
A 44-year-old man and woman, 42, have been arrested as part of investigations into Mr O'Brien's complaints.
Mr Saunders was attacked outside his home in Canton, Cardiff, in October 1987 and died five days later in hospital.
Mr O'Brien and two other men, Darren Hall and Ellis Sherwood, were jailed for life in 1988 for the murder.
They were freed in 1999 after their convictions were quashed at the appeal court.
South Wales Police said in a statement: "Officers investigating alleged offences of perjury and perverting the course of justice, at the criminal trial in 1988 relating to the murder of Mr Phillip Saunders, have arrested a man, 44, and a woman, 42, at an address in Cardiff.
"Both have been taken to a police station in the city where they will be questioned by detectives from the investigation team."
The Independent Police Complaints Commission (IPCC) is separately supervising an investigation into three complaints from Mr O'Brien.
Det Supt Chris Hobley, of Norfolk Police, is leading both an IPCC-supervised investigation and a South Wales Police criminal investigation.