Re-think plea over tuition fees in Wales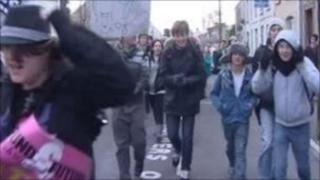 A Liberal Democrat Assembly Member is calling for the UK government to rethink its policy on tuition fees.
Universities will be able to charge up to £9,000 a year but students from Wales will receive a grant to offset the difference.
However, Peter Black, Liberal Democrat for South Wales West, said the move meant students from England were "at a disadvantage" to those in Wales.
Protests have been held about the UK government's policy.
Mr Black made his comments as the Labour-Plaid Cymru coalition Welsh Assembly Government announced it would protect students living in Wales from fee increases.
But this means students from elsewhere in the UK will also face higher fees at Welsh universities.
Mr Black said it would cause "resentment" among English students studying at Welsh universities, who could pay about £17,000 more than their neighbours over three years for the same course.
Vince Cable, the secretary of state responsible for universities, has indicated he might not vote in favour of the fee rise, but might abstain.
The National Union of Students in Wales said the new policy was "fantastic news" for students who live in Wales, but extremely disappointing for those who do not.
Plaid Cymru education spokesperson, Nerys Evans, said the discrepancy was down to the "beauty of devolution".
She denied English students were being singled out by the assembly government.
Alternative approach
"They're not being targeted because of what we're doing, they're being targeted because of what their UK government is doing," she said.
In Wales, basic tuition fees will rise to £6,000 per annum, or £9,000 in some circumstances.
But the assembly government will meet the cost of extra fees for students from Wales attending any UK university.
The new arrangements will apply only to students starting university in September 2012.
Should Parliament refuse to endorse the proposals of the UK government, the Welsh Assembly Government will develop an alternative approach.
Announcing the policy on Tuesday, Education Minister Leighton Andrews said: "This is a 'Made in Wales' policy which demonstrates the benefits of devolution.
"We are preserving the principle that the state will subsidise higher education and maintain opportunities for all."
And Welsh Conservative education spokesperson, Paul Davies, added: "It has become increasingly clear that the current funding arrangements for Welsh higher education institutions are unsustainable.
"The policy of no top-up fees, which the Welsh Conservatives have supported for many years, has resulted in increased economic activity in Wales' university towns and cities.
"The challenge now is to ensure we can improve the competitiveness of Wales' higher education institutions and at the same time narrow the funding gap which has widened between Welsh institutions and those in other nations of the UK."