Neonatal units in Wales 'stretched' says charity Bliss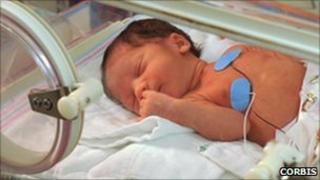 Hospital units caring for Wales' sickest babies are 'stretched to the limit' according to a report.
Special care baby charity Bliss said minimum staffing standards were not being met and wards regularly had to close to new admissions.
The survey also found that emotional and practical support for families with ill or premature babies was not up to standard.
The assembly government would not comment on the findings.
The sixth annual report on neonatal care in Wales by Bliss is titled 'Still a long way to go' and concludes: "Services caring for premature and sick babies in Wales are still being stretched to the limit and not meeting minimum standards."
It calls for staff shortages in specialist units to be urgently addressed.
In 2008 the assembly government published the All Wales Neonatal Standards, outlining how specialist care for the most vulnerable babies should be delivered.
Safe staffing levels are also the top priority of the Royal College of Nursing's campaign Nursing Matters.
The report by Bliss highlighted that four out of the six units to respond to questions about staffing do not currently have enough funded nurse posts to allow them to meet the minimum standards.
Chief executive Andy Cole said: "Recently there have been welcome improvements to services caring for the most vulnerable babies in Wales, however, it is clear that there is still a long way to go.
"While a 12 hour transport system is being set up and should be operating soon, progression has been slow, with initial recommendations being made in 2005.
"Now we want to see staff shortages in units made the number one priority to ensure the very best care is being given to premature and sick babies and their families in Wales."
The report also revealed that a lack of staff means many units have to close their doors to new babies born needing vital care.
Eight out of nine units who responded to the survey said they were unable to provide specialist care to new babies born in their hospital for a total of 440 days in 2009 and were also closed to new babies born outside their hospitals for 890 days.
This led to babies having to be transferred to other hospitals, sometimes outside Wales.
In 2008 Health Minister Edwina Hart announced an additional £2m per year for neonatal services.
The Bliss report was supported by the RCN in Wales, who have been campaigning for 500 extra neonatal nurses in Wales since 2009.
The RCN's Helen Whyley said: "We welcome the recommendations in the report and want to work locally with health boards to see the number of nurses increased with immediate effect.
"Neonatal nurses don't just look after sick and vulnerable babies, they have a unique role in the holistic care of the whole family at a traumatic time.
"We are very concerned about the number of families being moved sometimes hundreds of miles to access services."