Report calls for social services shake-up in Wales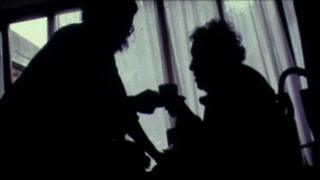 An independent report has recommended major changes to the way social services are delivered in Wales.
It warned of the current "striking variations" in what users could expect in different parts of the country.
The report said users should have much more personalised services, with standard eligibility rules across the country for who should receive them.
Wales would be the first country in the UK to provide such an assessment scheme if it was adopted.
Prof Geoffrey Pearson, who chaired the From Vision to Action commission, warns the current system of planning, commissioning, and delivering services across 22 local authorities is not sustainable.
Instead, he wants to see the number of organisations and partnerships responsible for social services and social care "collaborate more effectively", and organised alongside the seven Local Health Boards, in order to work more closely with health services.
However, service delivery should still be carried out locally, the report found.
Around 150,000 people receive some sort of social care service in Wales every day, and that number is predicted to rise sharply in the coming years.
Total public investment in social services and social care is currently about £1.4bn a year.
The commission was established by the assembly government in order to point the way forward for social services over the next decade.
The report also said people should be encouraged to take more responsibility for their health, well-being, and the kind of care they needed to receive.
Prof Pearson said: "Despite the progress that has been made in recent times, there remain striking variations in what service users can expect in different parts of the country.
"Furthermore, over time, we can expect a new generation of service users who will be articulate, well-informed, have a greater sense of being 'customers' and who will demand high-quality services.
'Blizzard of initiatives'
"We found a large measure of agreement that the present arrangements for the planning, commissioning and delivery of services across 22 local authorities are not sustainable."
The report said many of those who responded to the call for evidence said they found it hard to keep pace with a "blizzard of initiatives" which, it said, were a feature of modern social services.
These should be dramatically reduced and simplified to some key principles in order to free up more time for social workers and others working on the front line, the report said.
First Minister Carwyn Jones said: "Given the challenging financial climate that we face following the savage cuts imposed on Wales by the UK government, it is important that public services look to work together to ensure we get more for our money.
"The findings of this report chime with what we are trying to deliver, fostering and developing closer working to sustain and improve local services.
"It is essential that we share resources and make the best use of the skills and expertise of the talented individuals that make up public services in Wales and remove artificial boundaries that can develop between organisations."