Welsh uni fees decision expected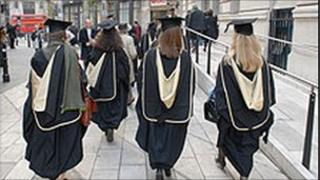 An announcement on whether Wales will increase university tuition fees is due to be made by Education Minister Leighton Andrews on Tuesday.
The UK government wants to increase tuition fees for universities in England up to £9,000 per year from 2012.
The assembly government is to announce if it plans to keep pace with plans in England.
It comes on the same day that university students and pupils across Wales join a national day of protest against tuition fees and cuts to university teaching grants.
Ciaran Jenkins, BBC Wales' education correspondent explains:
What's happening today?
The Education Minister, Leighton Andrews AM, is making a statement to the Welsh assembly outlining the Welsh Assembly Government's position on student tuition fees.
How much are students charged at present?
Currently tuition fees in Welsh universities are the same as in England, £3,290.
Until September 2010 Welsh domiciled students studying at Welsh universities were able to claim a grant to offset around half the fees.
What's changed?
The UK government has announced its intention to allow English universities to charge tuition fees up to £9,000 per year from September 2012.
There's likely to be a vote in the House of Commons before Christmas.
Funding for universities in England has been cut by around 80% and students will be asked to make up the difference in higher fees.
Funding for universities in Wales has been cut by 12%.
If Welsh university budgets are only being cut by 12%, why the need for higher fees?
The education minister has said that it will cost the assembly government up to £110m to support the 16,000 Welsh domiciled students who choose to study in English universities each year when the fee increases occur.
It appears this money hasn't yet been accounted for and it may mean deeper cuts for Welsh universities than those announced in the draft budget.
There is also an historic funding gap with the university sector in England, worth around £70m a year at the last count.
Welsh universities argue they would fall further behind if they weren't able to charge as much as universities in England.
What do Welsh students say?
The National Union of Students Cymru is opposed to any increase in tuition fees.
They argue that cuts of only 12% mean Welsh universities do not need to charge up to £9,000 a year as in England.
Hundreds of Welsh school children and students have joined protests in recent weeks against tuition fee increases.
The education minister has talked about a "Welsh solution" to this problem, is that possible?
There is a precedent for charging a higher tuition fee in England than in Wales and currently Scottish tuition fees vary from both England and Wales.
However, the proposed reforms to the university system are so wide-ranging it's difficult to see how such a radically different system could operate simply to accommodate Wales' eleven universities.
Around a third of all full time undergraduate Welsh students study in English universities, and 25,000 from England study in Wales.
If Welsh universities charged lower tuition fees than in England there are fears that the number of applicants from over the border could increase significantly.
Meanwhile, Welsh students would still be charged up to £9,000 at English universities, leading to fears the assembly government would be effectively subsidising the English higher education system.
Is there a political mandate to increase tuition fees?
Labour and Plaid Cymru are the coalition partners in the assembly government.
Their programme for government, the One Wales agreement, states they will do "whatever is possible to mitigate the effects on Welsh-domiciled students if the Westminster government lifts the cap on fees".
They have already introduced higher fees once in this assembly term by abolishing the grant that was given to Welsh domiciled students.
Some Plaid Cymru assembly members opposed the assembly government on that occasion.
The Welsh Conservatives and Welsh Liberal Democrats fought the 2007 assembly elections with a promise not to introduce increase tuition fees in Wales.
The Welsh Conservatives now say the current level of graduate contribution in Wales is "unsustainable".