Call for clarity over role of child safety boards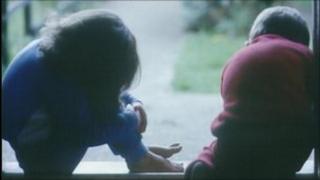 The role of bodies set up to protect children in Wales needs to be clarified, according to a group of AMs.
The heath committee found the role of Local Safeguarding Children Boards was not clearly understood and the service was not consistent across the country.
Committee chair Darren Millar AM said the inquiry had "uncovered grey areas" and that even some professionals were not aware the boards existed.
Children's Commissioner Keith Towler said it was "time for a change".
Local Safeguarding Children Boards (LSCBs) consist of representatives from councils, health boards, social services and the police, who work together to prevent the mistreatment of children.
They were set up as part of the UK government's 2003 Every Child Matters strategy alongside the formal response to the report into the death of Victoria Climbié.
Victoria, eight, died from abuse and neglect while living with her aunt Marie-Therese Kouao and her boyfriend Carl Manning.
She was seen by dozens of social workers, nurses, doctors and police officers before she died but all failed to spot and stop the abuse as she was slowly tortured to death.
The Health, Wellbeing and Local Government Committee concluded that the role of LSCBs in Wales was even misunderstood by those working for the agencies represented on the boards.
'Grey areas'
And it raised concerns over their impartiality and the scrutiny of their operations as, in some cases, representatives from the bodies under review remained on the board.
Committee chair Darren Millar AM, said: "This inquiry has uncovered grey areas with regards to role requirements, responsibility and accountability that cannot be ignored.
"Clearer guidance as to exactly what LSCBs are responsible for, how they go about meeting those responsibilities and how the decisions they make are implemented is essential.
"My committee colleagues and I heard about a lot of the good work being carried out by LSCBs. But if there is uncertainty over their role among the people on the front line of the very organisations represented on the board, then more effort is needed to establish that."
The committee was also told that frontline workers - those in direct contact with children, families and carers - were often unaware of decisions and strategies of their relevant LSCB or even, in some cases, of its very existence.
Mr Towler said the latest report was a "constructive contribution" to the ongoing discussions.
"From all these reports, it seems that we must address the very valid concerns about the current systems in place to protect children and that more needs to be done to recognise that it's everyone's responsibility to protect children and young people," he said.
"Everyone's had an opportunity to voice their opinions and now is the time for us to see a change in practice."
Children in Wales also submitted evidence to the inquiry.
'Simplification'
Chief executive Catriona Williams said there was a need for "clarity" about accountability.
She said: "In our evidence we pointed out that the extremely wide remit of the LSCBs has made expectations of them unrealistic.
"The continuum of preventing child accidents right through to child protection and child abuse investigations is basically too large a remit.
"There is also a need for simplification and rationalisation. In fact we would like to see a reduction in LSCBs covering a wider area such as to be co-terminus with the Local Health Boards. "