Fresh snowfalls cause disruption in Wales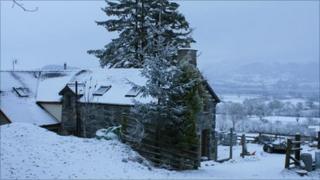 More snow is expected after fresh falls led to disruption on roads and dozens of school closures across Wales on Tuesday.
Up to 20cm (8in) fell in higher parts of Powys, while most of the country experienced plunging temperatures combined with icy winds.
The Welsh Ambulance Service dealt with 253 emergency calls relating to falls, from Monday to late on Tuesday morning.
More snow showers are expected.
An ambulance service spokesperson said: "The trust is closely monitoring the weather forecast for Wales and has contingency plans in place to deal with adverse weather conditions.
"We are also working with other emergency services to make sure that we can get medical help to a patient in a quick and safe manner in wintry conditions.
"If you need medical attention, and feel that you may not need an emergency ambulance, you can contact NHS Direct Wales on 0845 4647 to speak to a nurse advisor or health information advisor."
Around 60 schools across Wales were closed or partly closed due to the weather - many in Powys - and others closed early.
Fresh snow and freezing temperatures made driving conditions treacherous in many places.
The public were advised to take extra care and refer to Traffic Wales for further advice on road conditions.
Gavin Hill-Smith from the AA said the organisation had drafted in extra recovery teams in Wales and was keeping surplus staff on stand-by.
"Wales has been one of our busiest areas over the past few days," he said.
"A lot of cars are breaking down in these conditions because of flat batteries, frozen engines and frozen cooling systems."
Scandinavian winds meant temperatures on Tuesday felt more like -5 or -10C (23 - 14F).
Refuse and recycling collections in Torfaen were cancelled due to the condition of side roads after the snow.
BBC Wales meteorologist Derek Brockway said: "On Tuesday night there will be further snow showers in parts of the north and coming into mid Wales.
"It probably won't be as cold as recent nights but there will still be a risk of icy roads and penetrating frost.
"Further snow showers are expected on Wednesday, but mainly light."
BBC Wales has the latest online and weather updates.